Contents
Overview
0% APR financing is a powerful marketing tool for your site. Instead of offering a loan at the standard 10%-36% APR, you may be able to offer qualified customers a 0% APR loan with no hidden fees or charges. 0% APR financing can be implemented for a limited time or indefinitely.


Example below is typical of a mobile checkout experience:

*Images are examples only. Please refer to the downloadable PDFs as well as the corresponding Compliance Guides for current messaging and disclosures.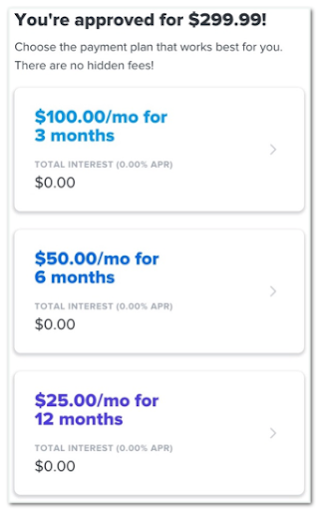 Request a 0% APR Financing Program
New merchants can sign up to use 0% APR financing immediately. For an existing merchant who wants to start a 0% APR financing program, we will need to draft an amendment to your original contract to include the 0% APR merchant discount rate. Both Affirm and the original merchant agreement signee will need to sign this amendment.


Contact Affirm (merchantcare@affirm.com or by using the Business Resource Hub help widget located at the bottom right) to request your 0% APR program. You will need to provide the following information:


A start and end date for the program (if you're offering the program indefinitely, only provide a start date)

Loan terms to offer at 0% APR if you don't want to offer the standard 3, 6, and 12 months (e.g., offer 6 months at 0% APR only)

An alternative plan for unqualified customers, such as offering another financing program (e.g., standard 10-36% APR over 3/6/12 months) or declining them so that they will need to use a non-Affirm payment method


It takes up to 5 business days to set up the program. Once the request has been submitted, you should prepare to update your Affirm promotional messaging and marketing disclosures (see below). Note that Affirm must approve your marketing and compliance messaging before going live.
Select merchants can activate 0% APR financing programs directly from the Merchant Portal Dashboard. After logging in, select the Financing Program tab to review current financing programs and other pricing programs available powered by Affirm's Adaptive CheckoutTM technology. Once a merchant reviews their pricing selection and completes the appropriate documentation, the change is complete.
Update Affirm Promotional Messaging
If you have not already done so, upgrade your Affirm promotional messaging to use data-page-type. The data-page-type attribute allows you to customize messaging without development work. Once you have added it to your promotional messaging and after Affirm approves your program request, our Merchant Care team will enable the 0% API program via data-page-type.


For example, "Pay over 3, 6, 12 months with rates from 10-36% APR" will read, "Pay over 3, 6, 12 months with rates from 0% APR or 10%-36% APR." Click here for more information on upgrading your Affirm promotional messaging.
Select merchants can activate time-based 0% APR promotions directly from the Merchant Portal Dashboard. After logging in, merchants can access the Promotional Financing tab to schedule a promotion and review the terms for the promotional period.
Marketing Assets
For our 0% APR financing assets, please follow this link.