Contents
In this article, you'll find a step-by-step guide that explains how to integrate your Shopify eCommerce site with Affirm. It's easy and quick. So, let's take a look!
---
Procedure
Adding Affirm as a payment method alternative will enhance your site and the relationship with your customers. You can easily add Affirm as an alternative payment method following these steps:
Step 1: Access the Affirm Merchant Portal
Log in

to your Affirm account and go to your Dashboard.

Go to the API Keys section that is on the left section. Leave this tab open.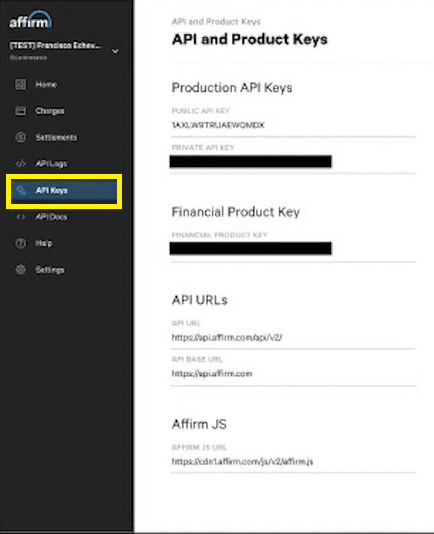 ---
Step 2: Install Affirm as a Payment Method
Now, open a New Tab and

Sign in

to your Shopify account.

Go to Settings and click on Payments.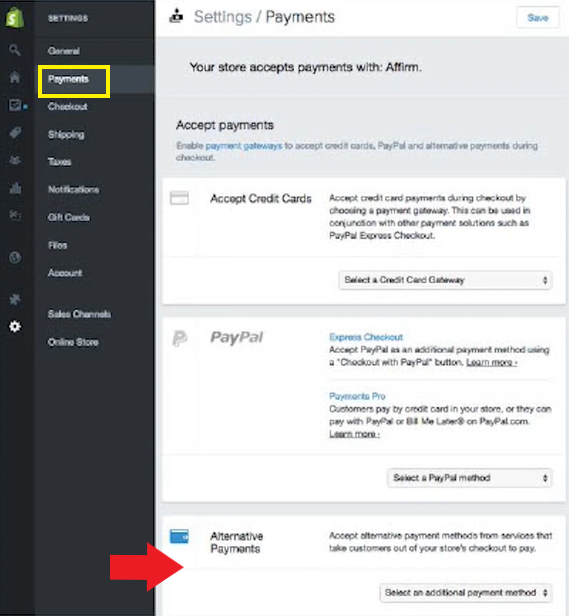 3. In the Alternative Payment section, select Affirm using the dropdown "Select an additional payment method".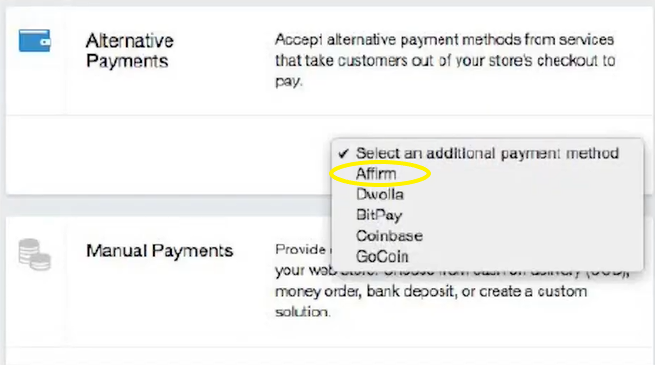 4. Fill in all the fields as suggested in the image.
Enter the public and private API keys obtained from the Affirm Merchant Portal.

Check the Enable Test mode box.
Click Save.
Note: in case you want to make a test order in our sandbox environment, the PIN at checkout is 1234.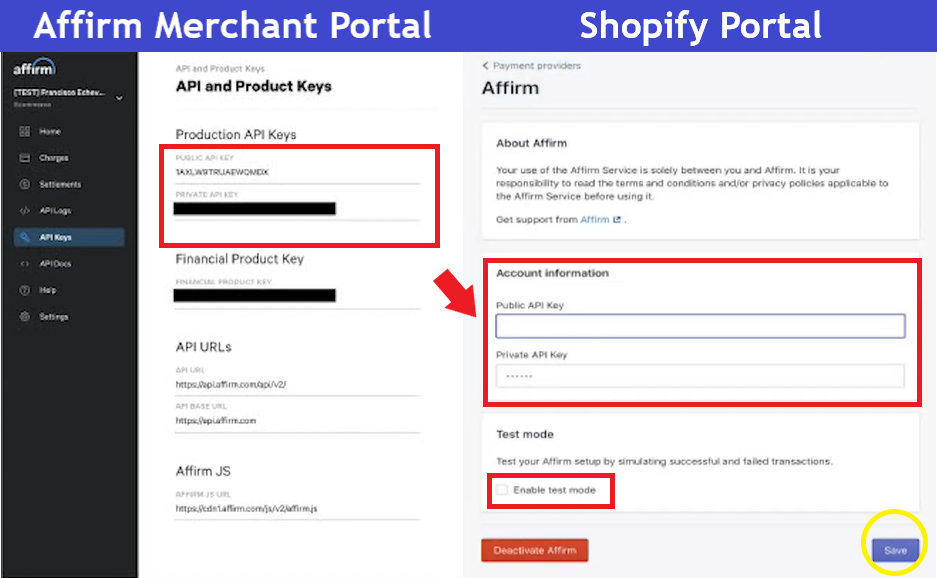 Affirm should now be available as a payment method - it should appear under Credit cards as another form of payment.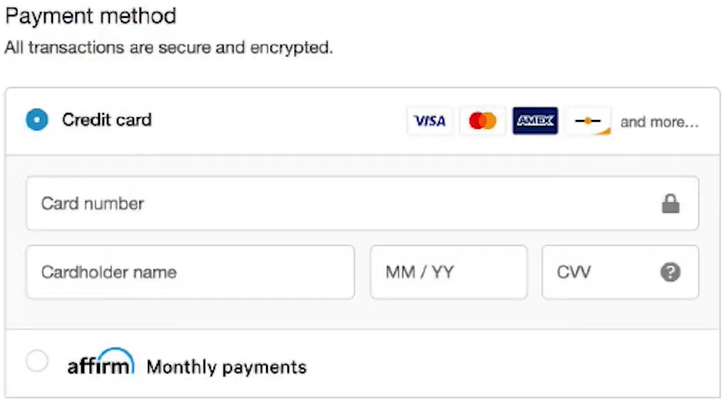 ---
Step 3: Testing the Affirm Checkout Flow
Add any product to your cart and follow the checkout process until the Payment page.

Select Affirm as a Payment method.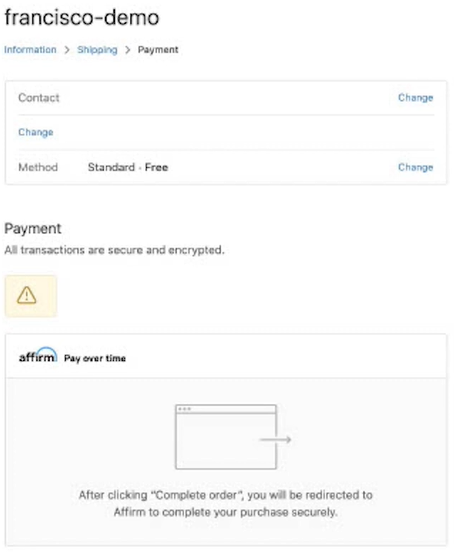 Note: You will be redirected to the Affirm checkout flow if everything is working correctly. You'll see a note near the top saying that completing this checkout flow does not create real loans (it is in test mode).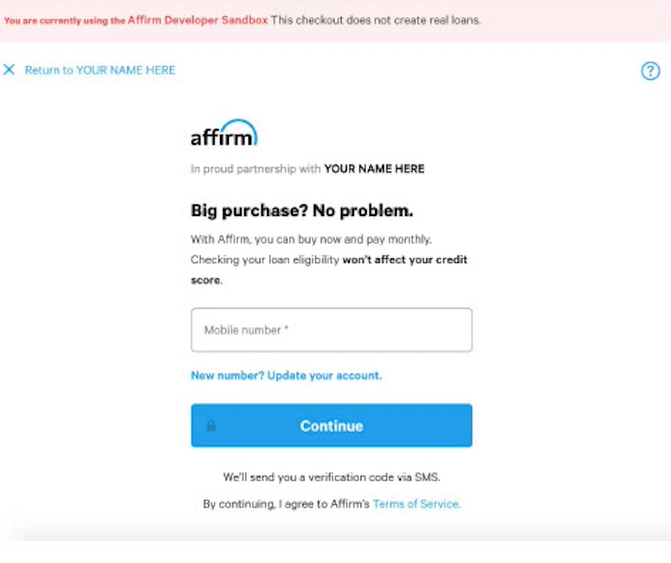 ---
Step 4: Deactivate Test Mode
Go back to the Shopify Settings.
Click on Payment Providers, then on Alternative Payment Methods, select Affirm, and then click on Edit.
Uncheck the Enable Test Mode option, and click on Save.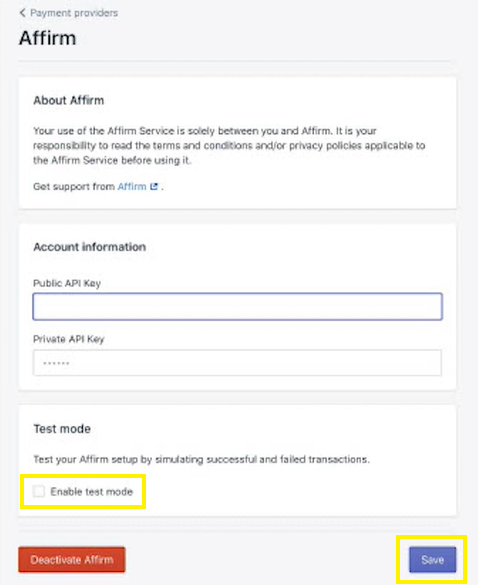 ---
Install the Affirm pay-over-time app
To add Affirm the Affirm pay-over-time app, follow the below instructions:
Go to the Shopify App store and search for the Affirm pay-over-time app.
Once you find it, click on Add app.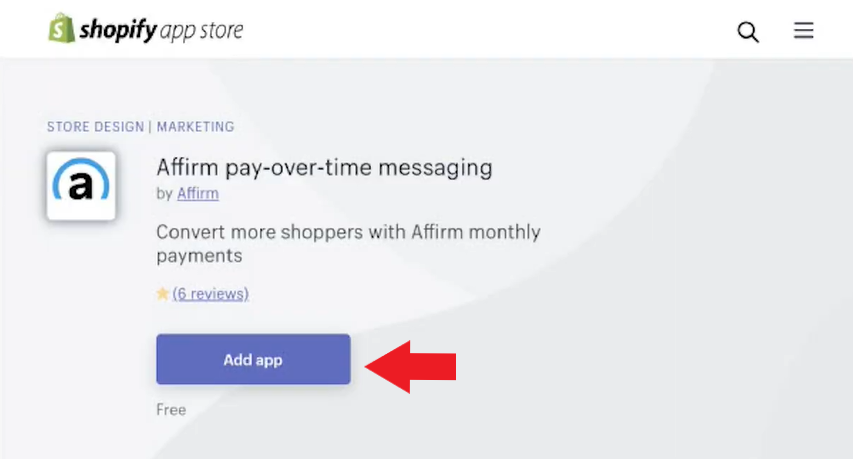 3. Notice that by installing the app, you are agreeing to the Shopify Terms of Service.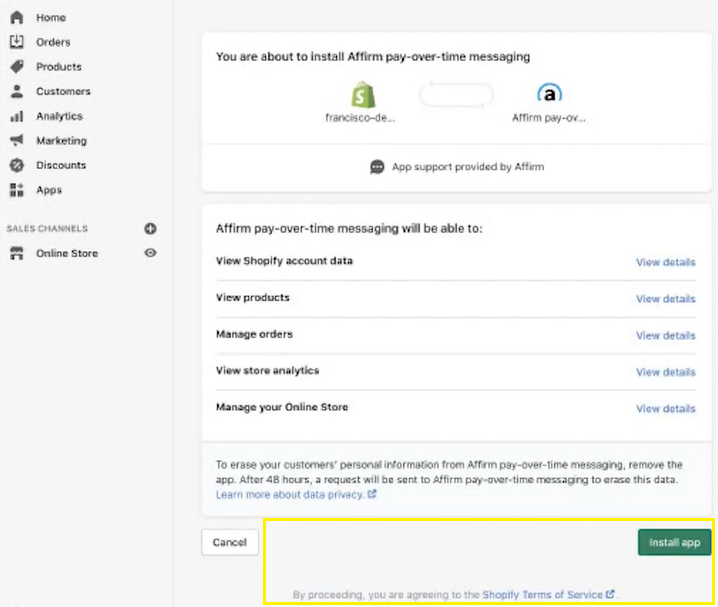 4. You will need to be logged in to the Affirm Merchant Portal, to be redirected to the configuration page.
5. Click on the Enable button to activate the Affirm pay-over-time app.

6. Then, you can configure your pay-over-time promotional messages directly in this section.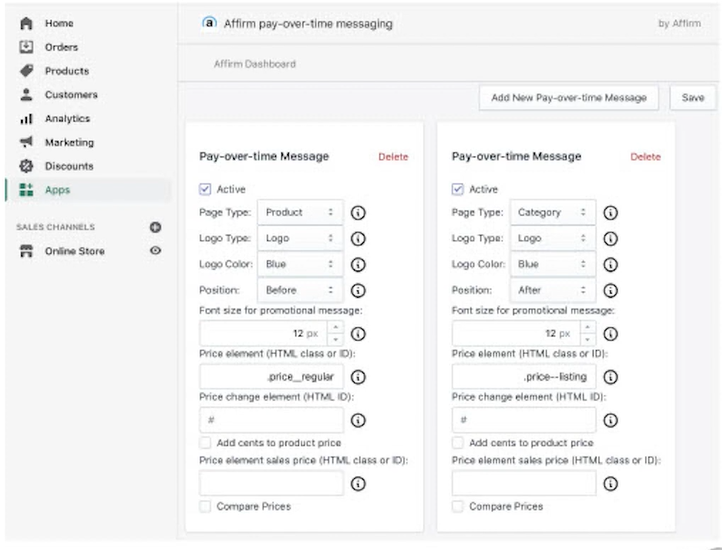 ---