Contents
Have you signed up with Affirm? Are you eager to connect your eCommerce systems to Affirm and grow with us? We're here to help! Let's get started on learning the basics on the types of integrations that we offer and how our integration process works.
---
Overview
One of the most important things to implement when partnering with Affirm is the Integration Process. There are 2 ways of doing it: through the existing platform integrations that Affirm has built out and natively supports, or through a Direct API Integration.
Our existing platform integrations are designed to work out-of-the-box, with only a light amount of setup and configuration. On the other hand, if you don't see your eCommerce platform in the list below, you will have to use the Direct AP Integration, which requires coding and technical resources on your side to implement.
---
Platform Integration Offerings
Affirm offers easy to install and configure platform integrations with some of the most popular eCommerce platforms out there. A big portion of our merchants use the following popular platform integrations:





Affirm supports a growing library of platform integrations, shown in the list below.

For the full list and instructions of how to integrate with our Platform Integration offerings, click here.
---
Implementing a Platform Integration
The out-of-the box platform integrations do not require any coding - just installation and some basic configuration. Generally, all of the platform integrations shown above will follow the below steps:
Choose your platform
First, choose an e-commerce platform to set up and configure Affirm using the applicable extension. Affirm offers integration options for some of the most popular e-commerce platforms such as Magento

,

Shopify

,

WooCommerce and many more. No matter which platform you're using, setup is easy and only requires a few simple steps.


Set up your Affirm account
Next, you will need a Merchant account to get Affirm up and running on your platform. Sign up for a merchant account here.


Add Affirm to your e-commerce platform
Now that you've signed up and created your Merchant account and can log into your Affirm dashboard, you can add Affirm to your store by installing our Affirm extension onto your e-commerce platform.
Again, the steps for each platform integration will be given in greater detail on their corresponding page linked in the section above.
---
Direct API Integration
Direct API Integrations may take some time to implement, as the requirements to make them work can become quite technical and more time intensive.
Affirm's basic process flow begins when the customer selects Affirm at checkout. The steps below represent what the customer experiences on the front-end, and how Affirm's integration handles the checkout on the back-end.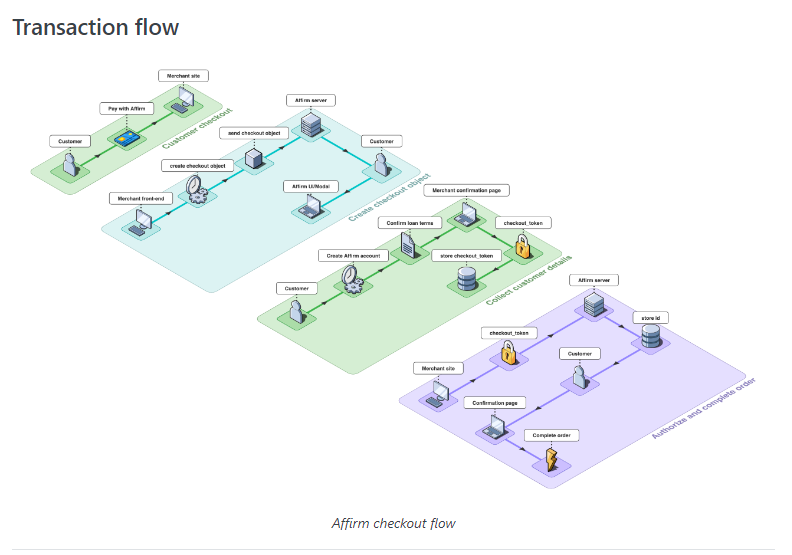 This checkout flow can be broken down into 4 main phases:
Customer initiates a checkout


Create, configure, and send the checkout object


Collect customer information


Authorize the transaction and complete the order



To learn more about how Affirm's integration handles the checkout on the back-end, click here.
---
Frequently Asked Questions
Q: Where can I access my API keys?
A: You can find your API keys (both public and private keys) in the Affirm Merchant Dashboard - https://www.affirm.com/dashboard/signin

Q: Can I test the Affirm Integration before making it live on my site?
A: Absolutely. You can either enabled test/sandbox mode in your eCommerce platform or us your sandbox API keys which can be found here: http://sandbox.affirm.com/dashboard
Q: How do I know if my site is live with Affirm?
A: You can reach out to Affirm's Implementation team to do a test run of your site to make sure everything is working correctly.
Q: What is Affirm Promotional Messaging?
A: The Affirm promotional messaging lets your customers know that there is financing available and that financing is available through Affirm. It's also a great tool to help your customers see the potential low monthly payment versus the full amount of their cart.
Q: Why am I receiving the error "We encountered a problem with your checkout. Please contact the merchant to complete your purchase." when testing Affirm at checkout?
A: Typically, we see this error when sandbox/test mode is still enabled. Go into your Affirm settings and disable it. Remember to save your updated settings.

Q: Do I have to use the merchant dashboard to manage orders through Affirm?
A: Nope! You can cancel, refund, or adjust the order from your OMS.

Q: How long do I have to capture an Affirm payment?
A: Authorized loans (customer payments via Affirm) must be captured before your author expiration date which is 30 days.

Q: When do I get paid?
A: We settle in bulk once per business day for any positive amount captured via an ACH transfer. Depending on your bank, it can take anywhere from 1-3 business days for the funds to land in your account.
Q: Can I customize the Affirm promotional messaging or use my own marketing materials?
A: There are several marketing guidelines that must be followed in order to stay compliant and adhere to the Truth in Lending Act and Regulation Z.
So, if you have any additional marketing materials, like an Affirm financing page, copy, or other promotional collateral involving Affirm, we ask that you submit that to our Merchant Care team at merchanthelp@affirm.com for review at least two weeks prior to launching it.
However, if you're only adding the Affirm promotional messaging to your product and cart pages using our plugin or extension, you do not need to submit a request at all.
---