Contents
Shopify is making technical changes to its platform that require all merchants to update their Affirm payment app so they don't lose access to Affirm. 
In this article, we'll review how to update the Affirm payment app in Shopify. Please take the following simple steps by November 1st to add the new Affirm payment app.
NOTE: The Affirm Payment App (Pay-Over-Time Messaging app) is not to be confused with the Affirm Settings integration. If you are using the Affirm Pay-Over-Time Messaging App, please do NOT remove it; simply disable the integration with Settings.
Time Required: 10 minutes
---
Connect New Payment App
Installing the new payment app by November 1st is essential to ensuring your customers can continue to checkout with Affirm. Luckily, the following steps can be accomplished in just a few minutes!
NOTE: If your Shopify store location is set outside of the US, please do not take the below steps, and instead click here for special instructions.
Navigate to the Affirm Payments App (here) in the Shopify App Store and click the Add App button.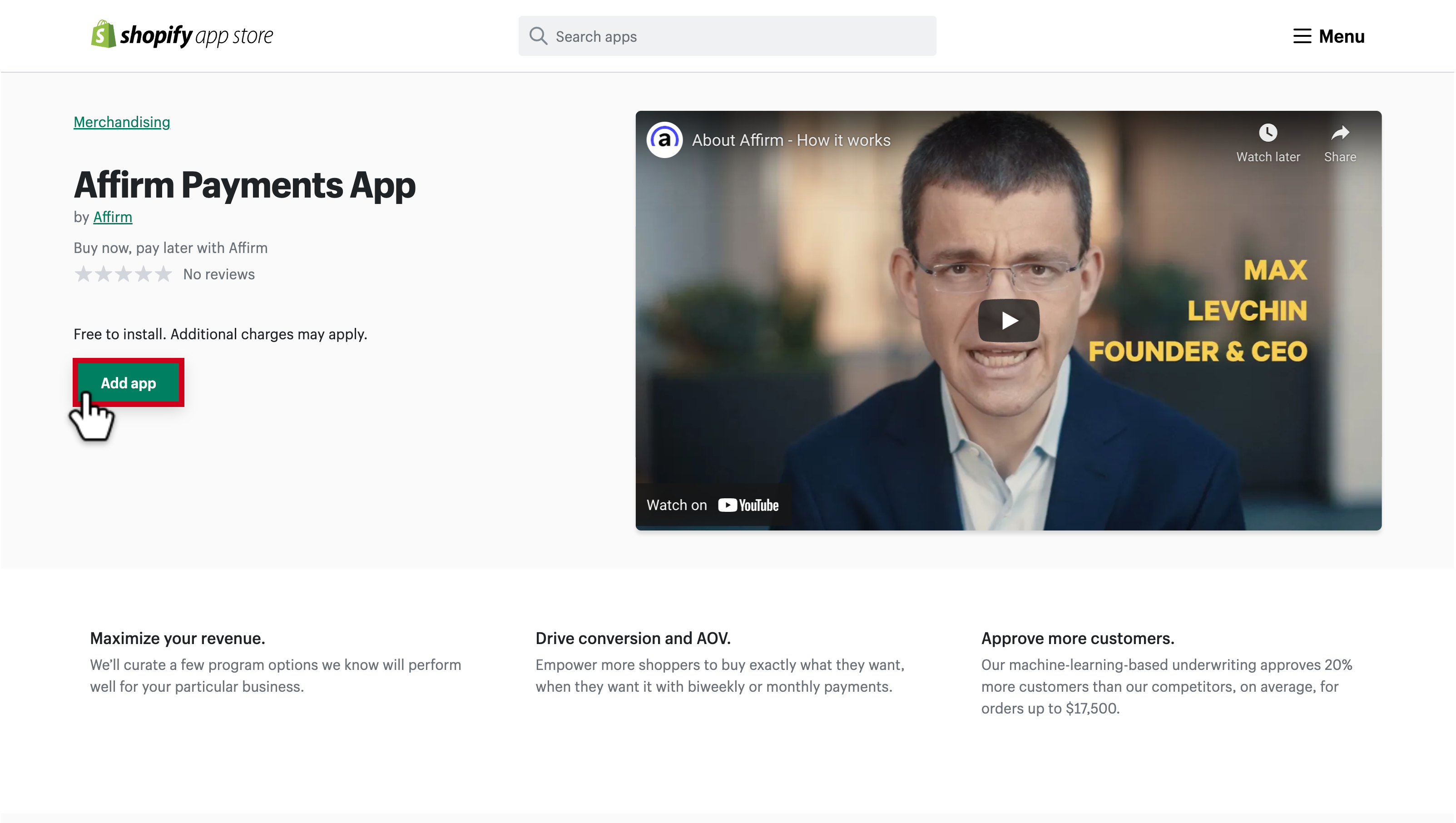 Accept the Shopify Permissions by clicking Install app.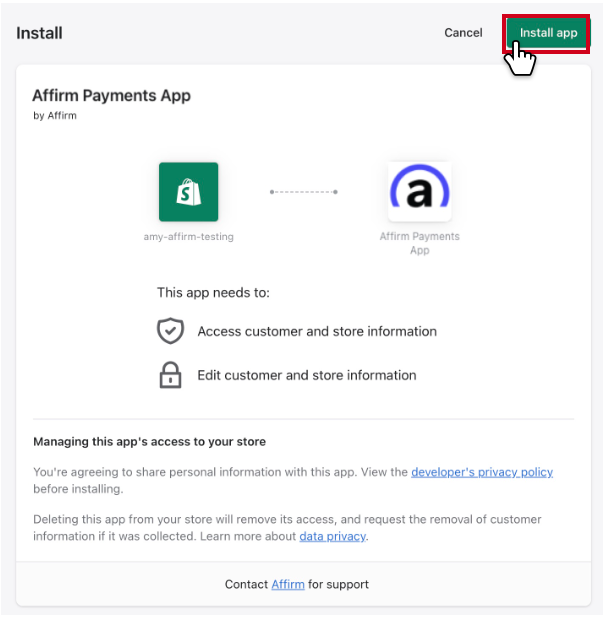 Next, you will be prompted to sign into the Affirm Merchant Portal, using your registered email address and password.

Note: If you have more than one brand with an Affirm account, you will need to add an email address not already associated with an Affirm account to the brand-specific portal. You can do this by following these steps.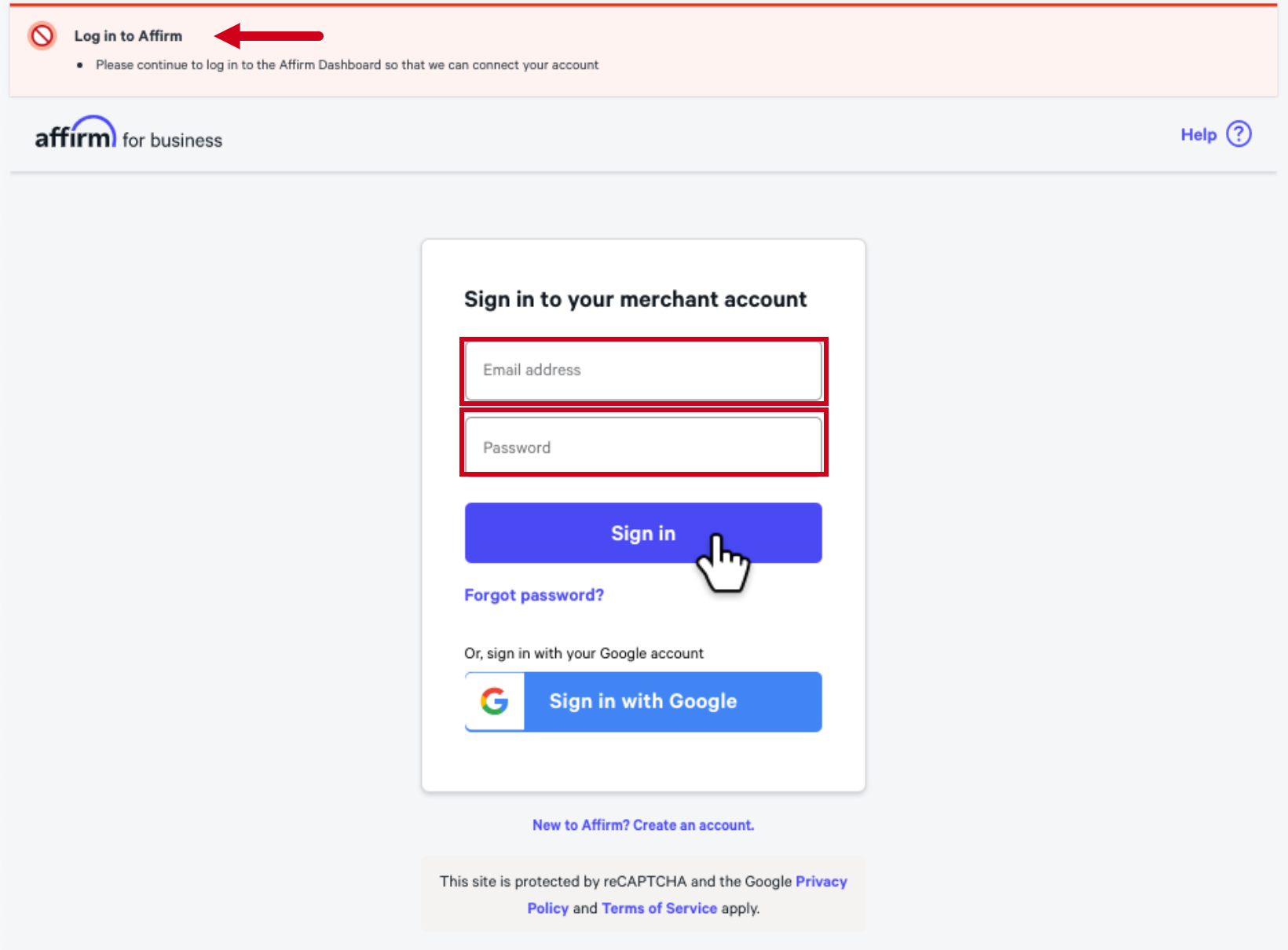 Navigate to the payment settings and confirm that the Account status shows that Affirm is connected.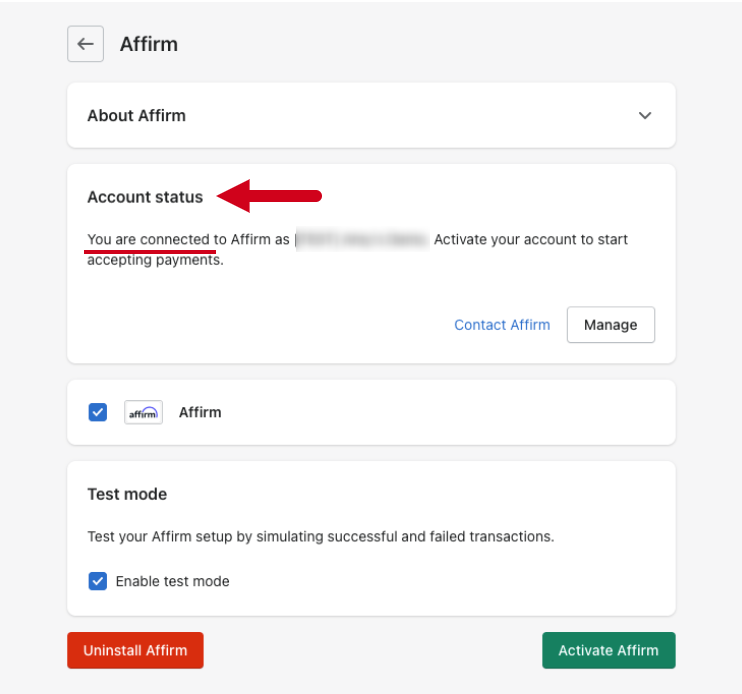 Uncheck the "Enable test mode" box and click Activate Affirm.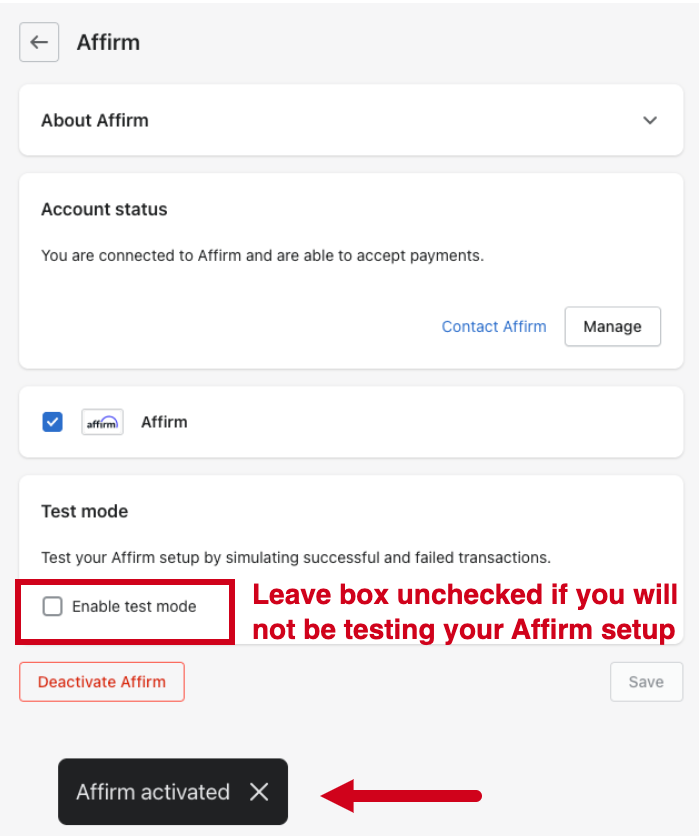 You did it – the Affirm Payments app is now live and connected. Thank you for your partnership in ensuring the success of this important update!
IMPORTANT: Please make sure to test the new app BEFORE proceeding to the next step and deactivating the old one!
---
Deactivate Existing Payment App
Deactivation of the existing/old app is very straightforward and can be done with just a few clicks. This will ensure the old payment app is removed before offering our updated version to your customers. You'll be accessing Affirm within your payment settings and deactivating the app with the click of a button.
From the homepage of your account navigate to Settings, located in the bottom left corner of the page.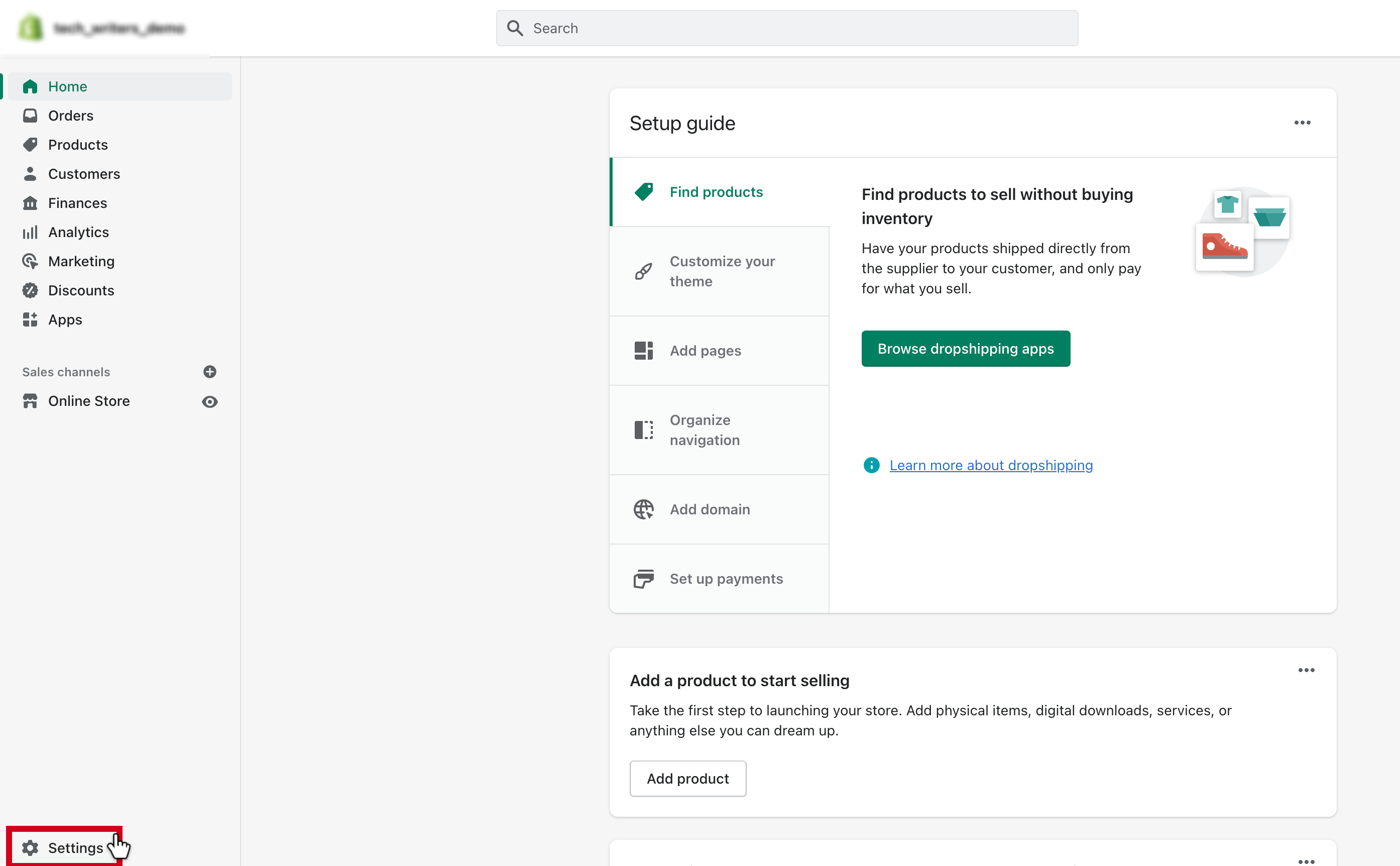 On the Settings page, click on the Payments option located on the navigation bar.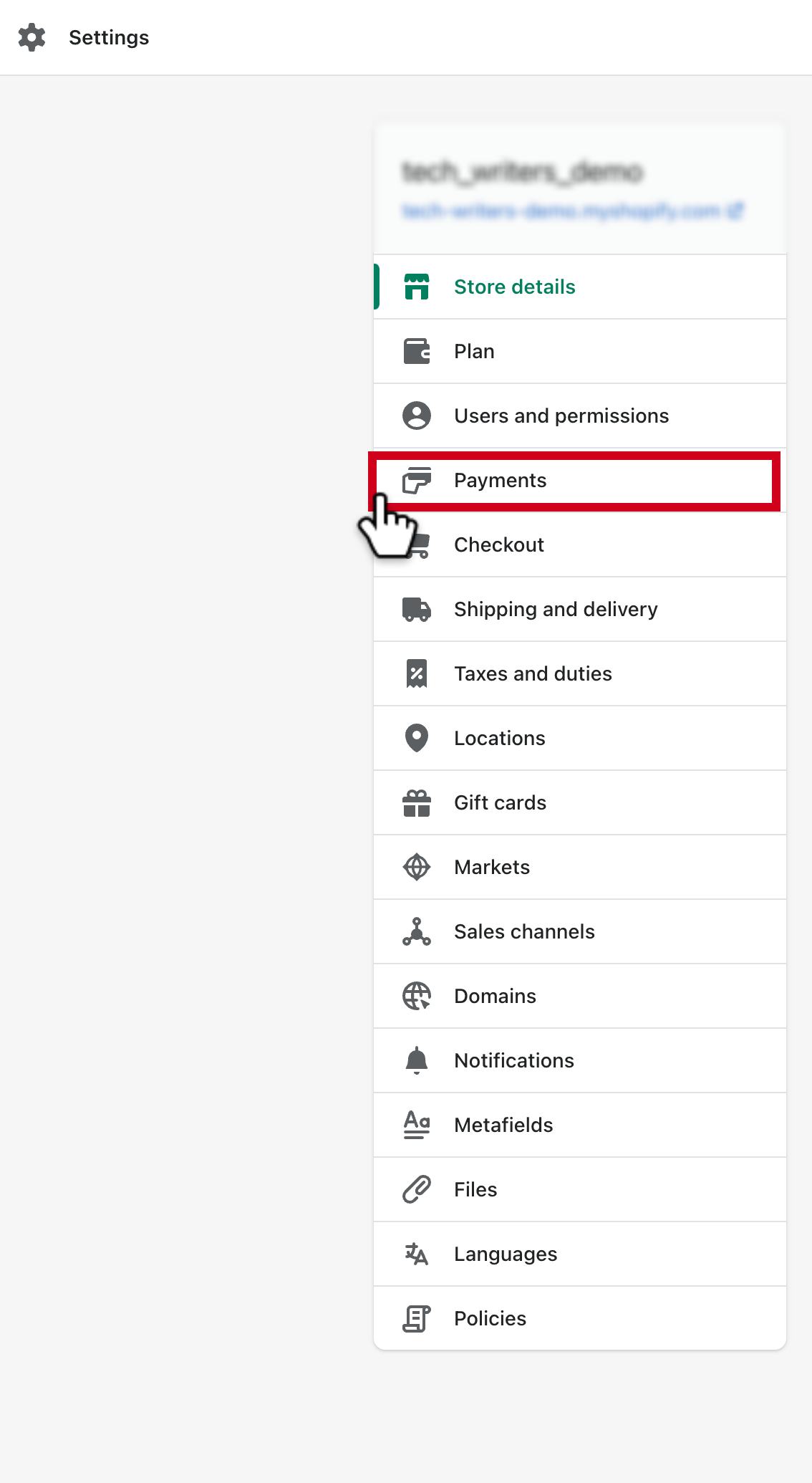 Once you're on the Payments page, locate the "Additional payment methods" section, followed by the Affirm payment method and select the Manage button.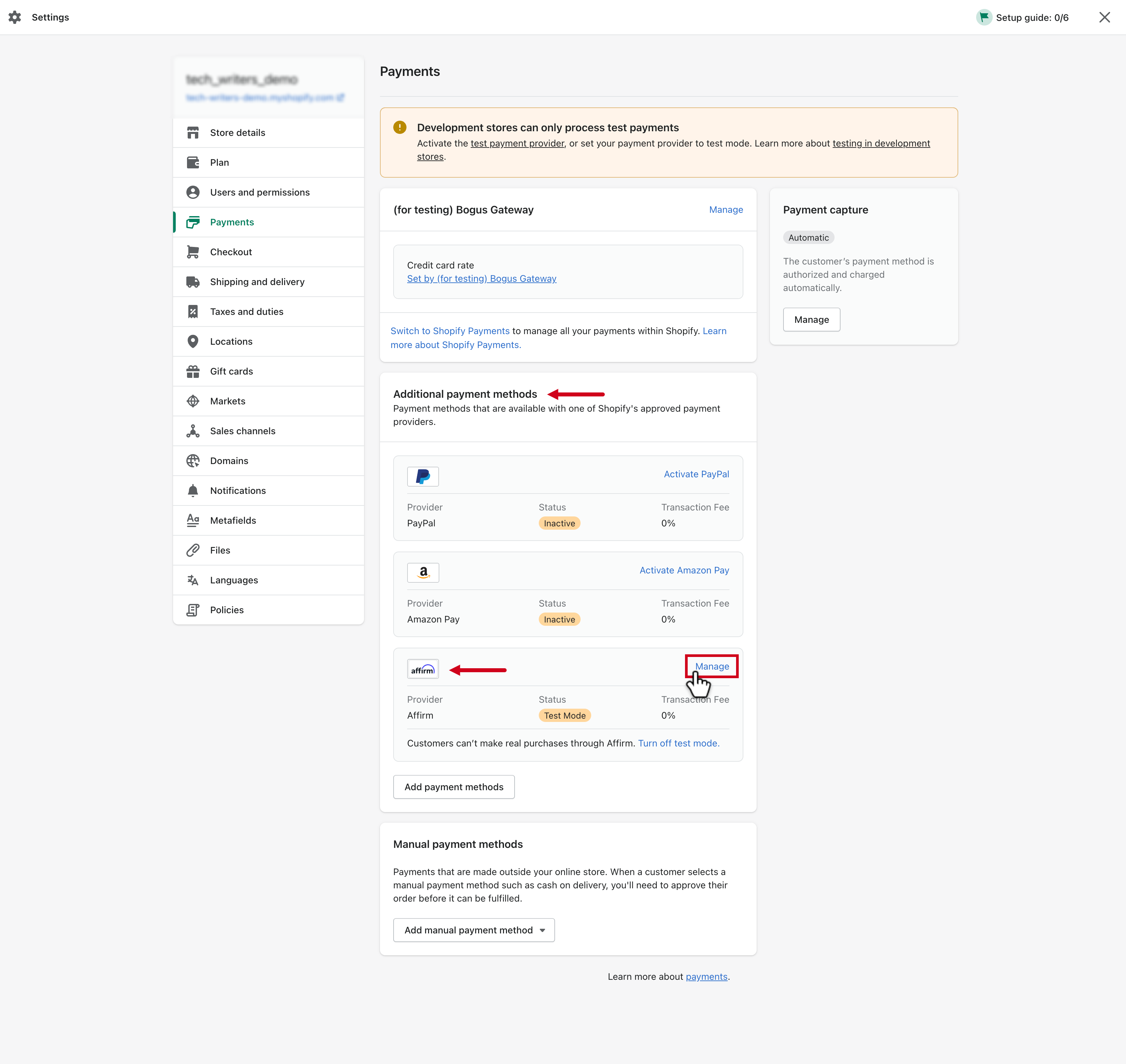 Select Deactivate Affirm, which will prompt a new window to appear to finalize your selection.

*IMPORTANT*

- delete the Affirm app that prompts you to add API keys - that is the outdated payment method.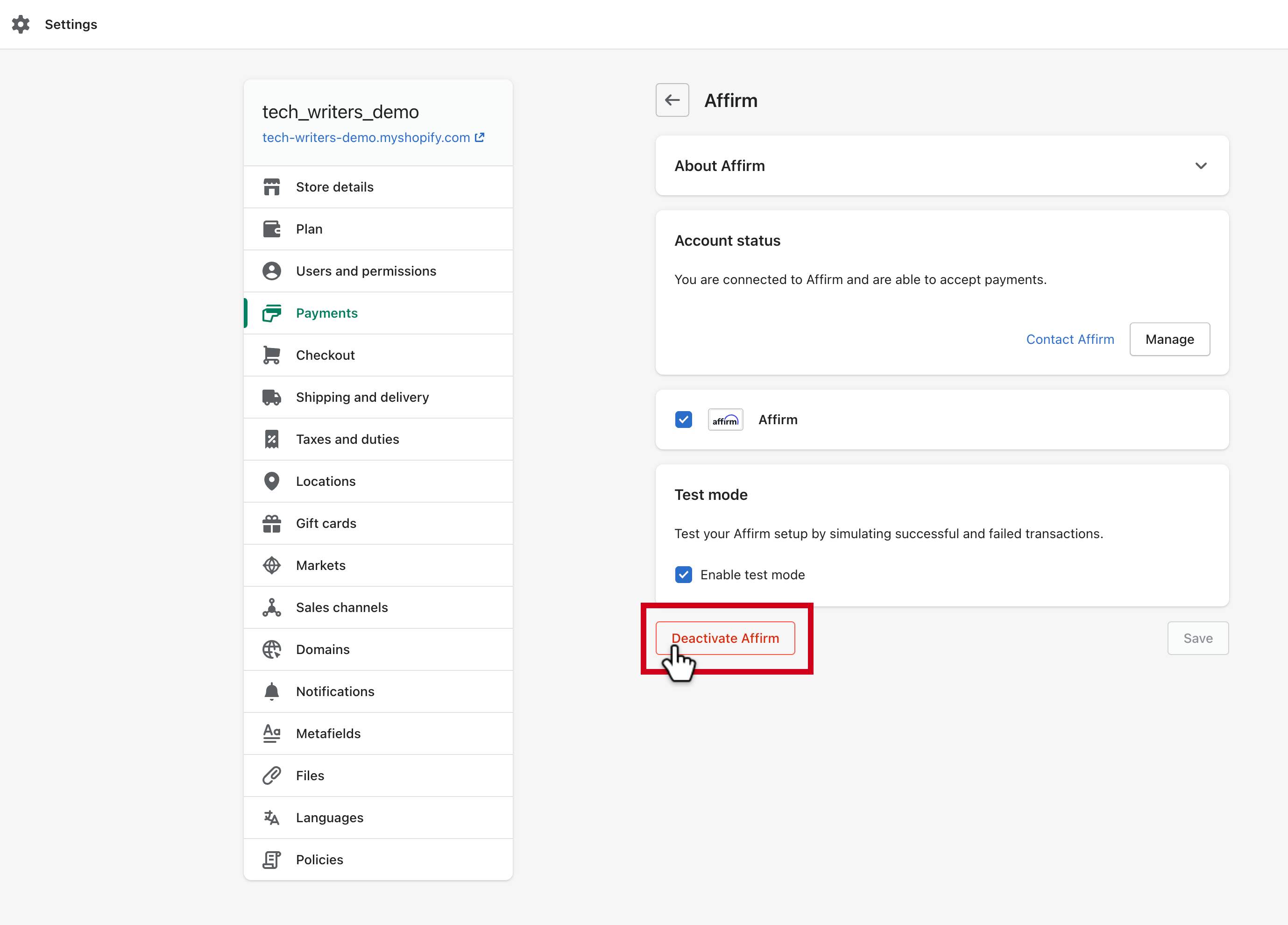 On the pop-up window, select Deactivate Affirm again to finalize your selection.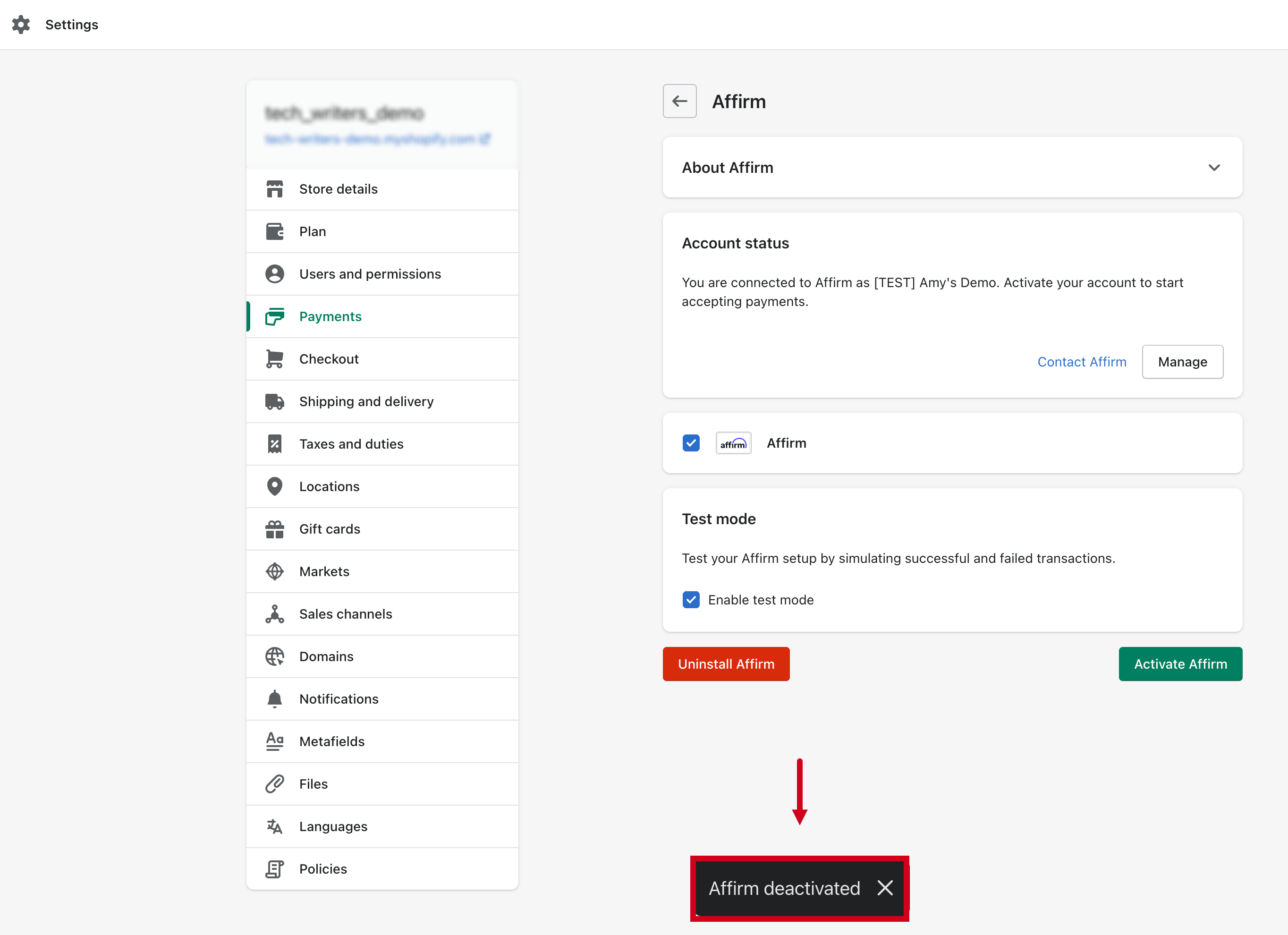 When Affirm is successfully deactivated, a box will appear at the bottom of your screen stating, Affirm deactivated.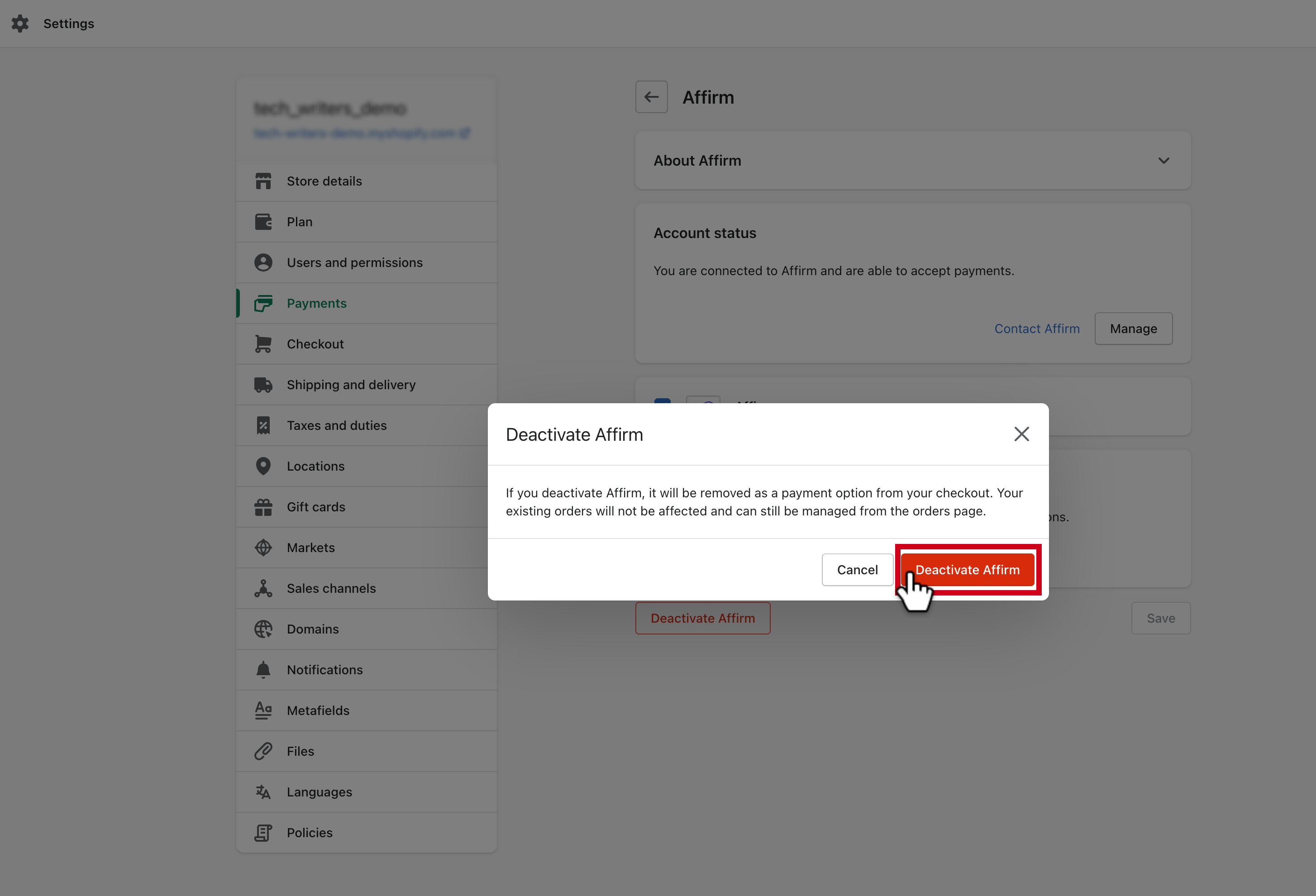 Do not uninstall the old Affirm payment app. It should be left in an inactive state moving forward. 
---
Frequently Asked Questions
Q: Will this update change the checkout or payment experience for my customers?
A: Nope! Everything will look and feel the same for your customers. This is purely a back-end change to comply with Shopify's new technical standards.
Q: Why do I need to make this update by November 1st? 
A: Shopify will no longer be supporting the technology used by our previous app, so requirements are mandatory (and apply to all payment apps on Shopify's platform). Affirm recommends that merchants using the Affirm payment app make the update by November 1st.
Q: Do I need to add the new app before removing the old one?
A: We recommend that you activate the new app before deactivating the old app. This will ensure that you and your customers do not lose access to Affirm in the case that you run into an issue during the installation. Please deactivate the old app as soon as you activate the new app to avoid any confusion.
Q: Can I leave Test Mode enabled when Activating Affirm?
A: You certainly can! This update will not alter your checkout flow or order management experience. For this reason, you can be confident that the transition will be seamless without enabling test mode. However, if you're more comfortable doing so, you're welcome to test the new app before setting it live. You'll just need to be sure that you disable Test Mode before you can accept live payments on your shop. 
Q: Why can't Affirm do this for me?
A: It is very important to Affirm that merchants have full control over the payment apps they offer on their site. For this reason, we're unable to remotely change your payment preferences and require your assistance to accomplish this important and vital update. 
Q: Is this update related to Shop Pay Installments?
A: Nope! Shop Pay Installments is a separate sales channel through Shopify. This update pertains exclusively to your Affirm account and the associated payment method on your shop.
Q: How do I install/upgrade the Shopify Payment app if I have more than one brand with an Affirm account?
A: If you have already installed the new Affirm Payments App from the Shopify App Store:
First, uninstall it.

Log into your

Affirm parent portal

using your email.

Select the sub-account from the drop-down in the upper left corner (beneath the Affirm logo).

Navigate to the

Settings

->

Permissions

->

Add Member

section and add an email not already. associated with the Affirm merchant portal.

Install the new Affirm Payments App

. When you are redirected to the Affirm login window, log in using this newly added email address

. You might need to clear your cache or use an incognito browser.


Q: Why did I get a "New Payment App Not Compatible" message?
A: Since Affirm is only available in the US, you may have encountered the error message "Not Compatible" (shown below) because your Shopify store location is set outside of the US.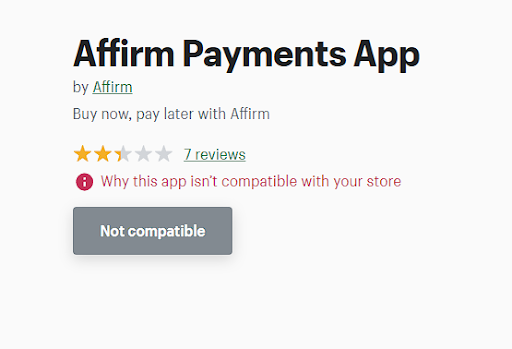 Q: How do I install/upgrade the Shopify Payment app if my store address is located outside of the US?
A: To install the new Affirm Payment app and continue offering Affirm to your customers, please replace [your_store_name] with your Shopify store name in the URL below, and visit the link to install and authenticate the new Affirm payments app without an error.
http://*[your_store_name]*.myshopify.com/admin/settings/payments/alternative-providers/1057791


---