Contents
Settlement reports provide a list of sales transactions, refunds, disputes, and fee adjustments over a daily, weekly, or monthly period. There is one settlement report for each deposit settled to your bank account. In some cases, there may be more than one settlement report per day. These reports allow you to reconcile your transactions with the deposits made into your bank account.
For settlements to occur, you need to have a bank account connected in order to receive the ACH transfers/disbursements.
---
Settlement Events Timeline
Generally, the process for settling captured funds follows the below example timeline:

Day 1: Fulfill and Capture
Partner (eg, your eCommerce platform) initiates fulfillment of order and captures Affirm loan.


Day 1, 2 am UTC: Disbursement
Affirm initiates batch ACH transfers for charges from the past 24 hours.


Day 2-4: Clearing
ACH transfer clears in destination bank 24-72 hours after disbursement.


Day 30: First Payment
Consumer makes first payment on loan with Affirm.

With settlements:
Merchant fees and refunds are automatically deducted from settlement.

Settlements are performed in bulk, once per official banking day for our issuing banks.

Affirm will batch multiple settlements together as necessary, after non-banking days
Note: As part of our partnership with multiple lenders, you may receive one or more settlement reports each day.
Since settlement does not not occur on weekends, one report is generated on Monday evening containing your settlements for Friday, Saturday, and Sunday. Bank holidays are similar in that settlement does not occur on bank holidays.
For example if a Bank Holiday occurs on a Monday, one report will be generated on Tuesday evening containing your settlements for Friday, Saturday, Sunday, and Monday.
Detailed Disbursement Timelines
The timeline for receiving a deposit from Affirm in your bank account after capturing a charge (also known as disbursement, which covers days 1-4 on the Settlement Events Timeline shown above) is similar to a credit card payment timeline. Affirm works with multiple lending partners to originate our loans and they are the entities that disburse payments to your bank account. Our lending partners only send payment on business days when there is a positive settlement balance.
The process runs according to Coordinated Universal Time (UTC). In the timeline below, we've included Pacific Daylight Time (PDT) as an example of how the schedule converts to a U.S. timezone.
One Originator Disbursement

One Originator Delayed Disbursement

Multiple Originators Disbursement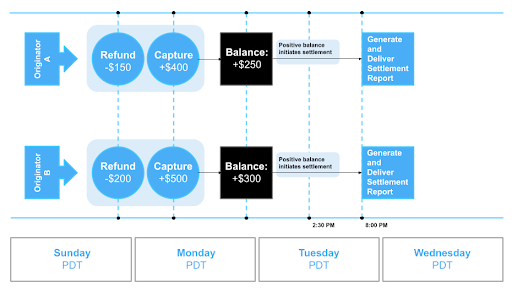 Multiple Originators Delayed Disbursement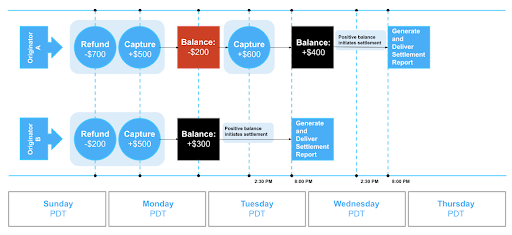 At the beginning of the day, at 03:05 UTC (7:05 PDT), we calculate the sum of all the previous day's charges (captures minus refunds) as the settlement total.
If your total settlement balance is positive, then at 05:30 UTC (9:30 PDT), we mark the settlement payment for disbursement.
At 21:30 UTC (13:30 PDT), our lending partners initiate an ACH transfer to your bank account for the settlement amount.
On the following day, by 03:45 UTC (7:45 PDT), we generate and deliver to you the settlement report that contains all of the charge actions (capture, refund, disputed, etc.).
Within 1 to 3 business days of initiating the ACH payment, your bank will receive the ACH transfer by 21:30 UTC (13:30 PDT) of that day.
Note that the settlement date referenced in your Merchant Dashboard is the date that the lending partner initiated the ACH transfer to your bank account. This date will not always correspond with the date that you receive funds in your bank account.
Please also note that, as part of our partnership with multiple lenders, you may now receive one or more daily deposits and see one or more Deposit IDs in your settlement reports for each day.
---
Additional Settlement Resources
---