Contents
---
Overview
At Affirm, we want you to give your customers different payment options, and with our Virtual Card functionality, they can pay over time online or in-store using an Affirm-issued Virtual Card, which behaves just like any other credit or debit card.

With the Affirm Virtual Card solution, no integration work is needed from you, the merchant. Your customers can apply for a Virtual Card through Affirm.com, the Affirm App on your mobile device, our Google Chrome browser extension, or on your online eCommerce storefront.
Check out the video below to learn more:



Important: Virtual Card technology is only offered to merchants who meet certain requirements. If you would like to learn more and see if you qualify, please send any inquiries to our merchant care team at merchanthelp@affirm.com
Regardless of which method your customers use to apply for a virtual card, they generally will follow 3 simple steps:


The customer will enter a few pieces of basic information, including first and last name, mobile number, email address, date of birth, and the last 4 digits of their social security number to create an account.


The customer will enter the total amount, including tax if applicable, in which they are looking to finance. If approved, the customer will select the payment option that works best for them.



The customer will then receive a one-time-use virtual Visa card with the amount in which they were approved. Then they simply enter the Virtual Card number/expiration date/CVV after selecting credit/debit as the payment form.
---
Customer Flow Example
Below, we have one of these potential Virtual Card flows illustrated for you (a customer applying for a Virtual Card through the Affirm App).


Step 1:
The customer downloads or opens the Affirm app. Then they tap on "Virtual Card" to get started.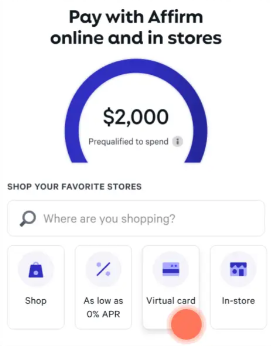 Step 2:
The customer searches for the store they'd like to purchase from. If they don't see it, then they can select "Pay with a one-time virtual card".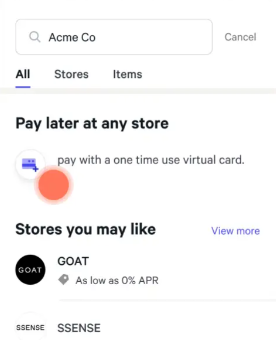 Step 3:
The customer puts down their purchase amount and completes an application and will immediately get a decision if they're approved for the virtual card.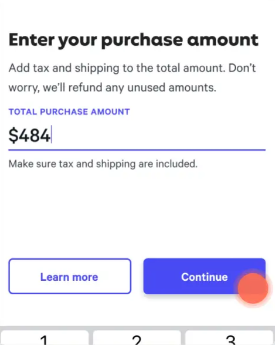 Step 4:
If approved, the customer will receive a virtual card, which is valid/active for a one-time use within 24 hours.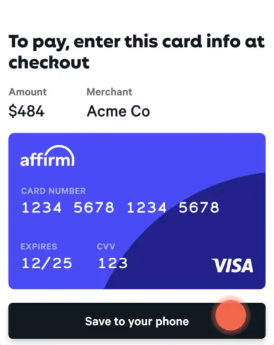 Step 5:
The customer completes the purchase by entering the virtual card number at checkout, just like they would any other card.
---