Contents
Shopify is making technical changes to its platform that require all merchants to update their Affirm payment app so they don't lose access to Affirm/PayBright.
In this article, we'll review how to update the Affirm payment app in Shopify. Please take the following simple steps by July 31st, 2022 to add the new Affirm payment app.
Note: Once you're done upgrading/are set up, make sure that all your promotional messaging is up to date as well! Please check out that resource here.
Time Required: 10 minutes
---
Connect New Payment App
Installing the new payment app by July 31st is essential to ensuring your customers can continue to checkout with Affirm. Luckily, the following steps can be accomplished in just a few minutes!
Navigate to the Affirm Payments App (here) and click the Connect button.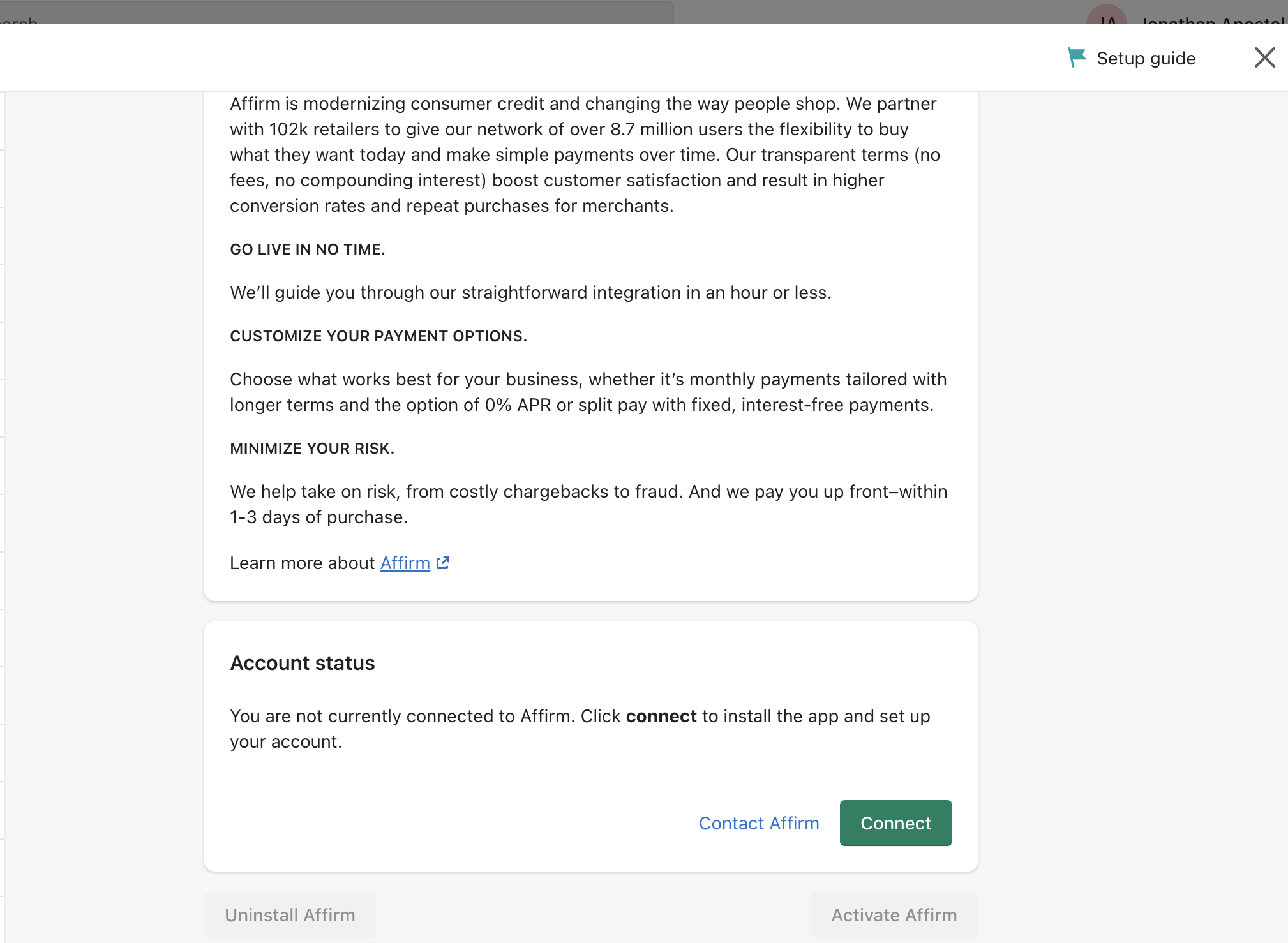 Accept the Shopify Permissions by clicking Install app.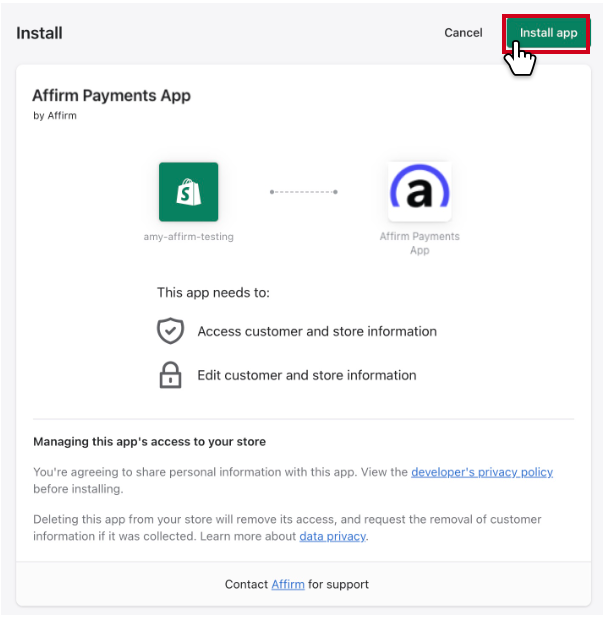 Make sure to select Canada as the Country / Region.


Next, you will be prompted to sign into the Affirm Merchant Dashboard, using your registered email address and password.

Note: If you have more than one brand with an Affirm account, you will need to add an email address not already associated with an Affirm account to the brand-specific dashboard. You can do this by following these steps.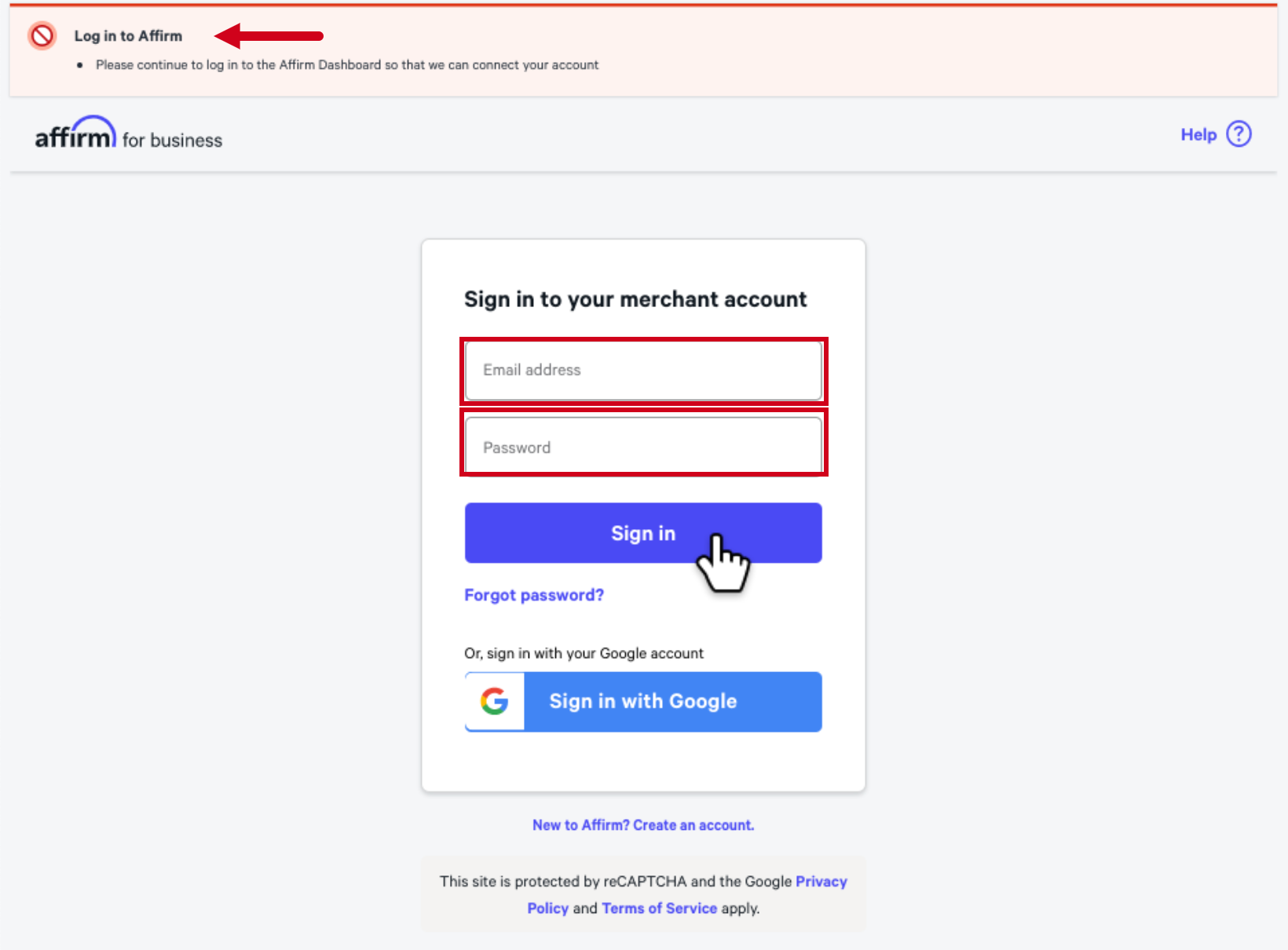 Navigate to the payment settings and confirm that the Account status shows that Affirm is connected.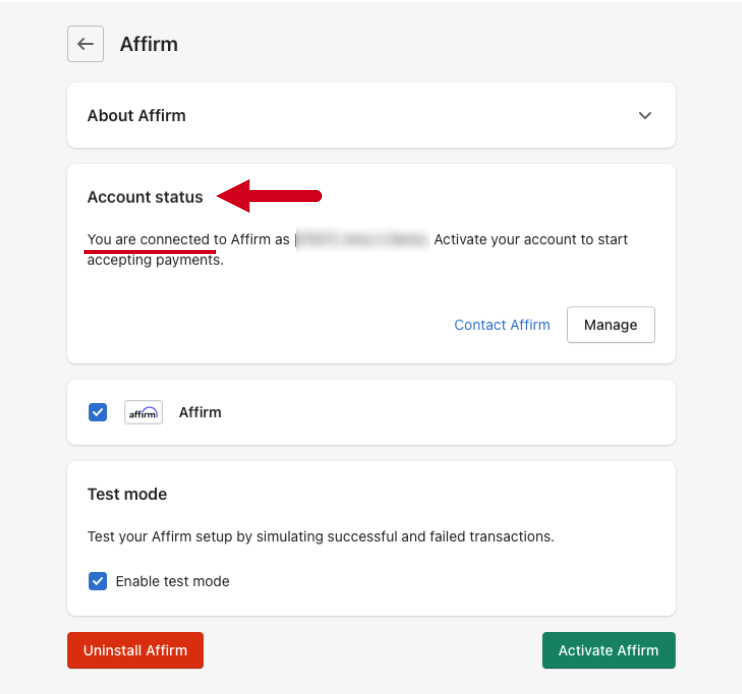 Uncheck the "Enable test mode" box and click Activate Affirm.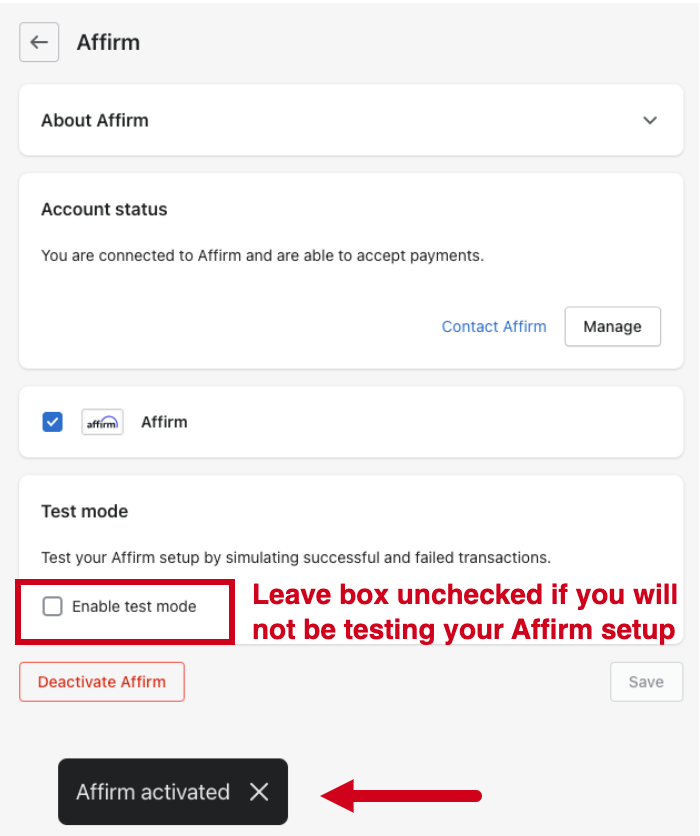 You did it – the Affirm Payments app is now live and connected. Thank you for your partnership in ensuring the success of this important update!
IMPORTANT: Please make sure to test the new app BEFORE proceeding to the next step and deactivating the old one!
ALSO IMPORTANT: Once everything is in place, make sure your promotional/marketing messaging is in place! Check out this resource for how to do it.
---
Deactivate Existing Payment App
Deactivation of the existing/old app is very straightforward and can be done with just a few clicks. This will ensure the old payment app is removed before offering our updated version to your customers. You'll be accessing Affirm within your payment settings and deactivating the app with the click of a button.
From the homepage of your account navigate to Settings, located in the bottom left corner of the page.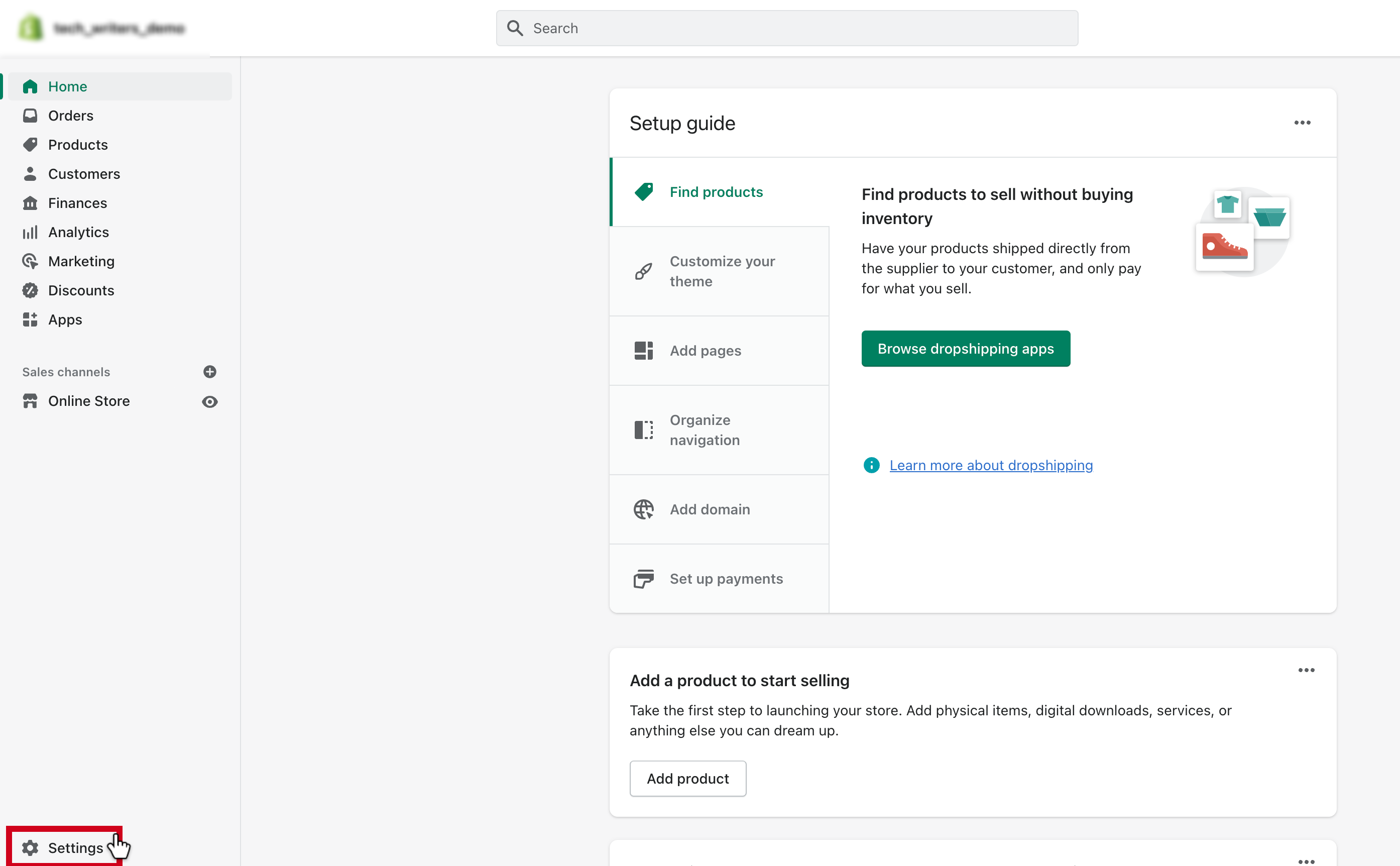 On the Settings page, click on the Payments option located on the navigation bar.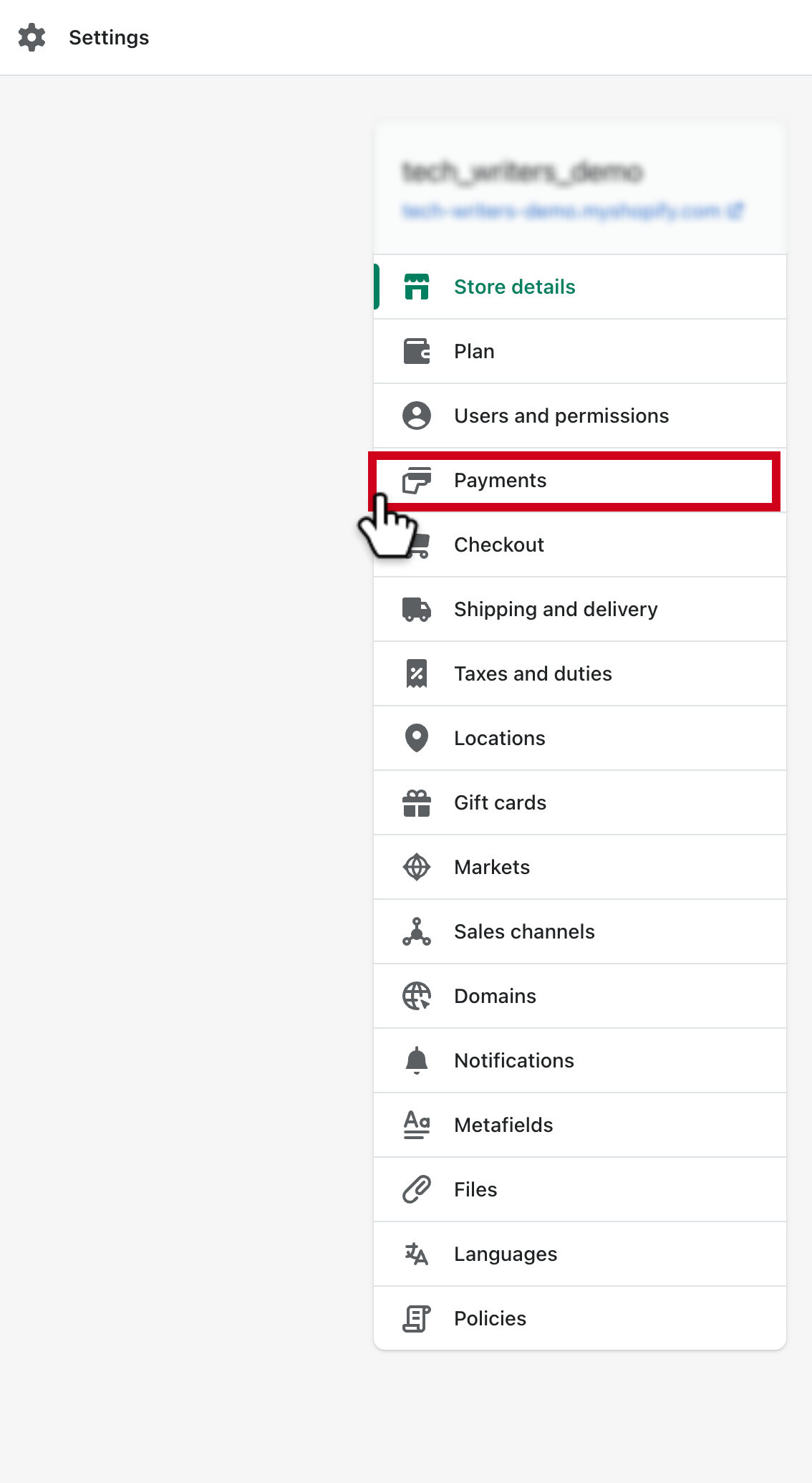 Once you're on the Payments page, locate the "Additional payment methods" section, followed by the PayBright (shown here as Affirm) payment method and select the Manage button.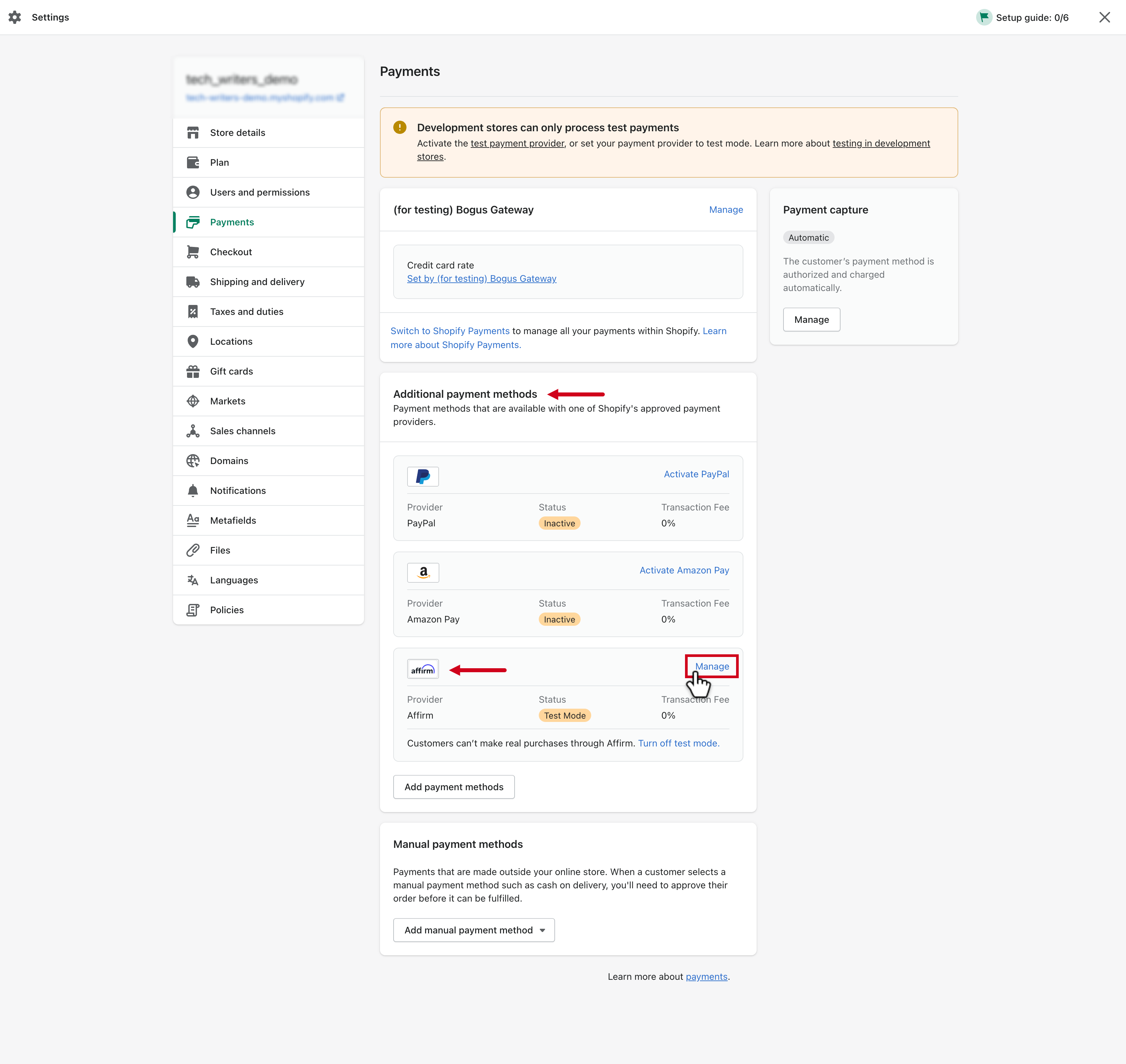 Select Deactivate PayBright (shown here as Affirm), which will prompt a new window to appear to finalize your selection.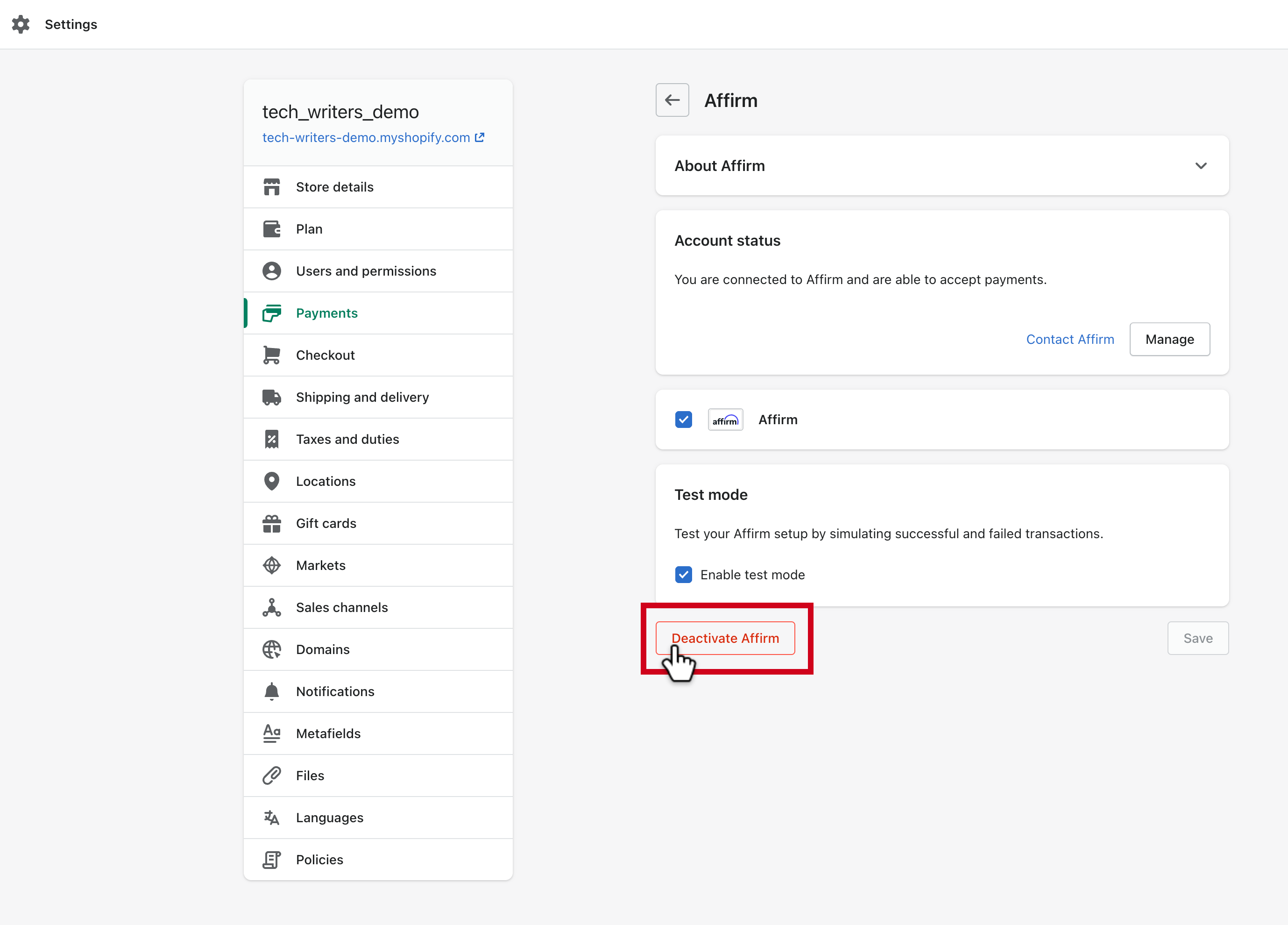 On the pop-up window, select Deactivate PayBright (shown here as Affirm) again to finalize your selection.



When PayBright (shown here as Affirm) is successfully deactivated, a box will appear at the bottom of your screen stating, Affirm deactivated.



Do not uninstall the old PayBright payment app. It should be left in an inactive state moving forward.
---
Frequently Asked Questions
Q: Will this update change the checkout or payment experience for my customers?
A: Nope! Everything will look and feel the same for your customers. This is purely a back-end change to comply with Shopify's new technical standards.
Q: Why do I need to make this update by July 31st?
A: Shopify will no longer be supporting the technology used by our previous app, so requirements are mandatory (and apply to all payment apps on Shopify's platform). Affirm recommends that merchants using the Affirm payment app make the update by July 31st.
Q: Do I need an API Key and Token for the migration? How do I access this?
A: You are not required to input API keys/tokens if you followed the instructions in the article, as it will automatically pick up API keys/tokens.
Q: Will I be able to complete refunds on PayBright orders created prior to the migration on Shopify / will the only way to refund those by through the PayBright portal?
A: Yes, all refund behavior can be completed as normal via the Shopify portal.
Q: What will happen with PayBright orders and history once the PayBright app is deactivated? Will the history transfer?
A: PayBright Loans will remain available in the PayBright portal. All future Affirm loans will be reflected on the Affirm portal.
Q: Will we have a new login?
A: New login information has been sent to emails that we have on file. Search for "access the merchant portal" in your email inboxes. If you didn't receive the email, please reach out to our merchant care team and have your verification information handy so we can assist you.
Q: Do I need to add the new app before removing the old one?
A: We recommend that you activate the new app before deactivating the old app. This will ensure that you and your customers do not lose access to Affirm in the case that you run into an issue during the installation. Please deactivate the old app as soon as you activate the new app to avoid any confusion.
Q: Can I leave Test Mode enabled when Activating Affirm?
A: You certainly can! This update will not alter your checkout flow or order management experience. For this reason, you can be confident that the transition will be seamless without enabling test mode. However, if you're more comfortable doing so, you're welcome to test the new app before setting it live. You'll just need to be sure that you disable Test Mode before you can accept live payments on your shop.
Q: Why can't PayBright/Affirm do this for me?
A: It is very important to Affirm that merchants have full control over the payment apps they offer on their site. For this reason, we're unable to remotely change your payment preferences and require your assistance to accomplish this important and vital update.
Q: Is this update related to Shop Pay Installments?
A: Nope! Shop Pay Installments is a separate sales channel through Shopify. This update pertains exclusively to your Affirm account and the associated payment method on your shop.
Q: What do I do for promotional/marketing messaging and assets?
A: Please refer to this resource on that!
---