Contents
---
Overview
One of the most popular ways for merchants to implement Affirm is to integrate it with their eCommerce platform through one of our existing out-of-the-box platform integration (to name a few: Shopify, WooCommerce, and Magento) or through our Direct API integration. These methods are explained further in our Integration Overview article.

This results in Affirm appearing as a payment option on your website, as shown here on product information pages, and in other places, like at checkout.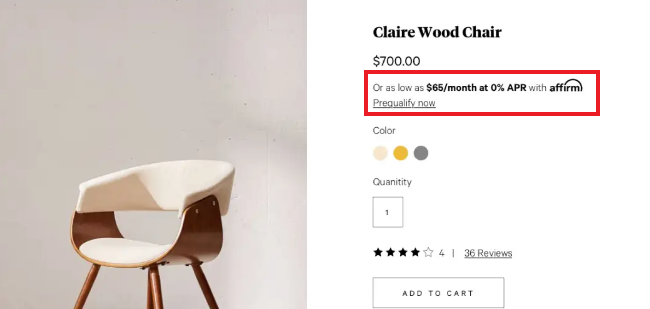 We'll cover these checkout payment options more in depth in the next section.
---
Checkout Offerings

Adaptive Checkout
Adaptive Checkout offers your customers the flexibility to select which way suits them best for payment over time, and your business the type of terms that suits your goods or services. This includes flexible plans from 4 interest-free payments every 2 weeks (Pay in 4) to longer term monthly payments (Installments).


With Adaptive Checkout, shoppers will have:

Dynamic messaging
Our technology translates price into flexible

payment terms, so your customers know exactly

what they'll pay and when.



Frictionless sign-up
Signing up is easy! Shoppers that are first time Affirm users just have to enter 4 simple pieces of info to see their options.



Personalized payment options
Our decision engine serves users the most relevant payment options in one clear view, so they can choose what works for them.

As mentioned, Adaptive Checkout includes our Pay in 4 or Installments payment options, or some kind of hybrid of both. We'll go over those below:
---
Pay in 4

Our Pay in 4 product offers a simpler experience, and shoppers can make 4 interest-free payments for their purchases. This is available for orders starting at $50. Customers also have the option to use their debit or credit card for repayment. Pay in 4 is ideal for smaller ticket items and services, and often has the most favorable rates to your customers.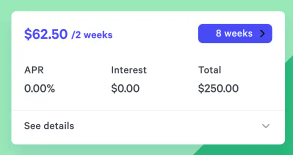 Benefits
Offering Pay in 4 to shoppers can bring many upsides for your business. It boosts incremental revenue by increasing cart sizes and pulling forward sales that otherwise might have been lost or delayed. Customers that have used Pay in 4 have said that if this 4-payment option was not available for their purchase, they would have:
Delayed their purchase (34%)

Not completed the purchase (27%)

Bought fewer items (18%)

Bought less expensive items (11%)
---
Installments

Installments allow your customers to be in better control of longer term payments, oftentimes for bigger ticket items or pricier services. They can choose to spread their payments out, typically over 3, 6, or 12 months (or more, depending on the price points of your goods and services), and pay for their purchase with manageable payments that work with their budget.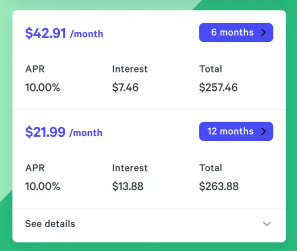 ---
Increasing Awareness

Once you have Affirm integrated into your eCommerce website, there are additional things you can do
to increase awareness of your brand and flexible payment methods: You can tap into the Affirm network and capitalize on the reach of Affirm's high-lifetime-value 12.7M+ shopper network to acquire new customers.

Affirm.com
Expand your customer base with key placements on our high-traffic website.
Our email​ list
Amplify product launches and promotions when you're included in Affirm emails to our active user base.
Organic and paid social media
Take advantage of our high volume of organic monthly impressions, and tap into our highly engaged network of Affirm loyalists.
Our influencer network
Raise awareness of your business and reach new audiences organically through our broad network of influencers.
Content partnerships
Amplify key marketing and messaging moments with custom media campaigns that capture new customers.

Businesses who work with Affirm see big boosts to their sales volume, average order value, and shopper satisfaction. For partnering directly with Affirm and potentially appearing within our website and our app, please fill out this form. For more ways to accelerate your awareness and get the word out about your Affirm partnership, visit our Marketing help resource for best practices, assets, and how-to articles.
---