Contents
In this article, you'll find a step-by-step guide that explains how to integrate your Shopify eCommerce site with Affirm. It's easy and quick. So, let's take a look!
---
Procedure
Adding Affirm as a payment method alternative will enhance your site and the relationship with your customers. You can easily add Affirm as an alternative payment method following these steps:
Step 1: Add the Affirm App
NOTE: If your Shopify store location is set outside of the US, please do not take the below steps, and instead click here for special instructions. If you have an older version of the Shopify Payments app, please check out this article to see how to replace it with the new version.
Navigate to the

Affirm Payments App

(

here

) in the Shopify App Store and click the

Add app

button.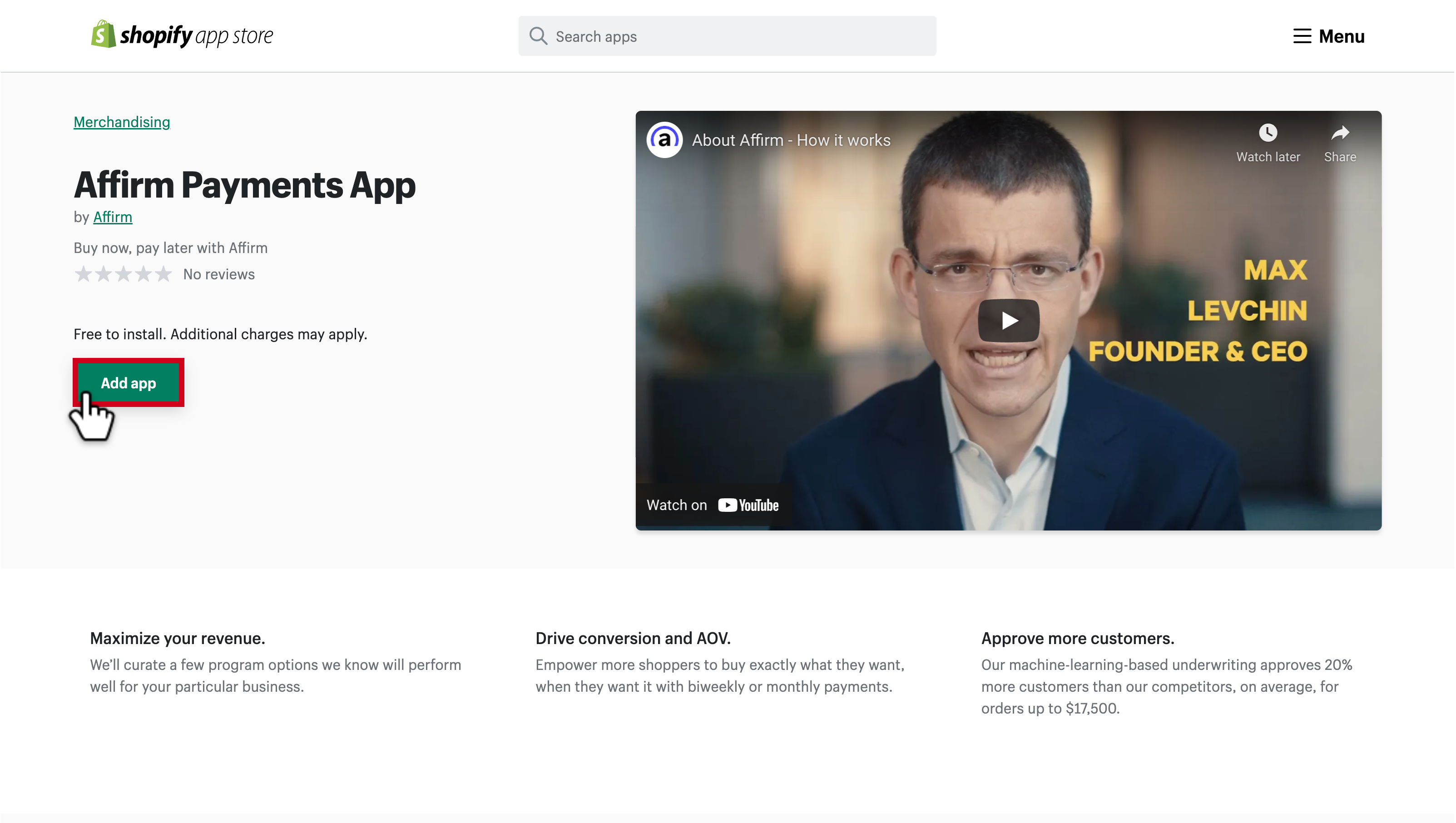 Accept the Shopify Permissions by clicking Install app.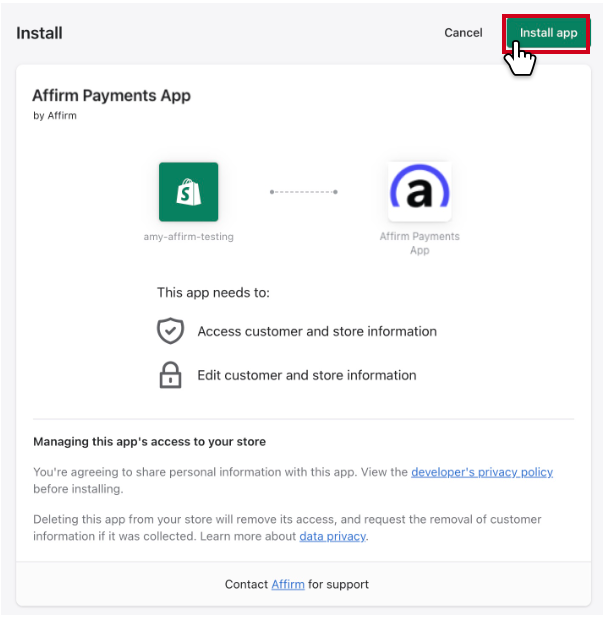 After accepting the Shopify permissions, select your

country/region (US or Canada) to be redirected to the Affirm Merchant log in window.



Next, you will be prompted to sign into the Affirm Merchant Dashboard, using your registered email address and password.



🚧 Do you manage multiple Shopify stores?

If you manage multiple stores using separate Affirm accounts, please use a unique email login for each shop. Reach out to us using the Support widget below for assistance






Navigate to the payment settings and confirm that the

Account status shows that Affirm is connected.



Choose to activate Affirm

with testing

or

without testing

.
---
Activating Affirm With Testing
To test the integration prior to activation, keep the Enable test mode box checked and then click Activate Affirm.




To test the Affirm checkout, see the next section.

After testing your integration, you can disable test mode by navigating to the

Payment settings

and unchecking the

Enable test mode

box , followed by clicking

Save.


You did it – the Affirm Payments app is now live and connected. Thank you for your partnership in ensuring the success of this important update!
---
Activating Affirm Without Testing
To activate without testing, uncheck the "Enable test mode" box and click Activate Affirm.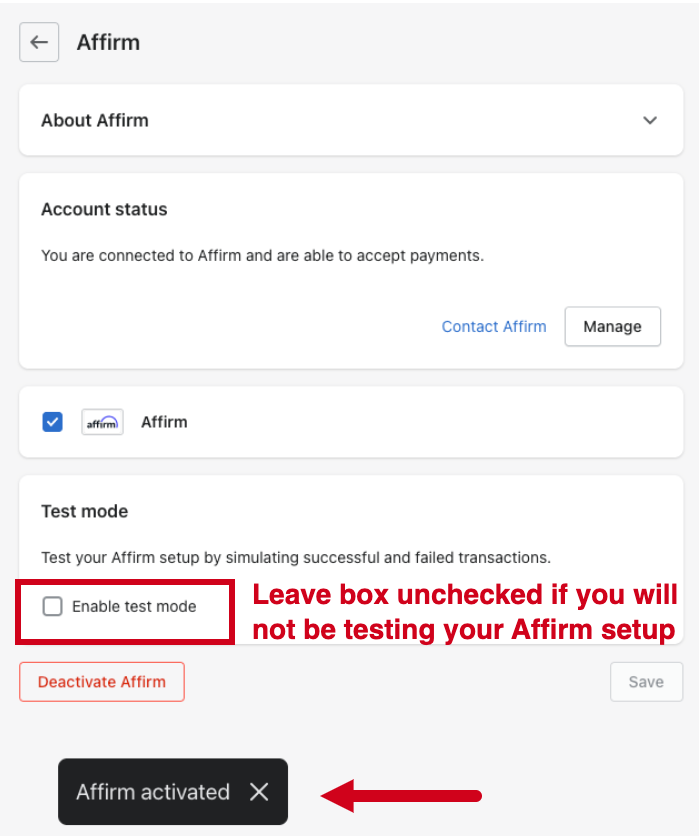 ---
Step 2: Testing the Affirm Checkout Flow
Add any product to your cart and follow the checkout process until the Payment page.

Select Affirm as a Payment method.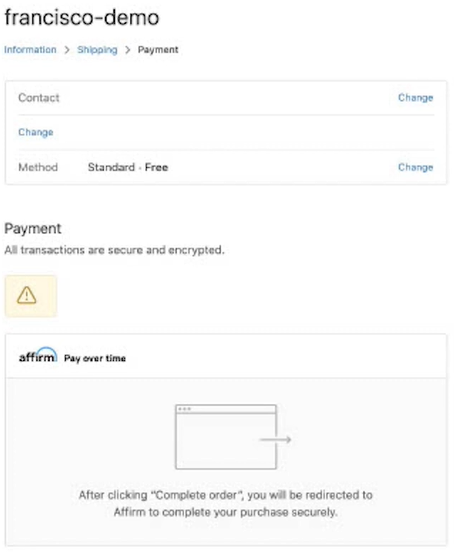 Note: You will be redirected to the Affirm checkout flow if everything is working correctly. You'll see a note near the top saying that completing this checkout flow does not create real loans (it is in test mode).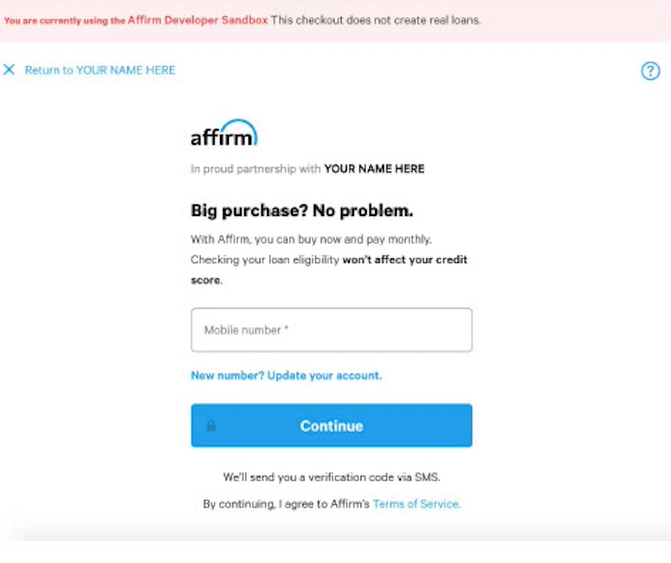 For testing out your integration, you can also watch this video:
---
Step 3: Deactivate Test Mode
Go back to the Shopify Settings.
Click on Payment Providers, then on Alternative Payment Methods, select Affirm, and then click on Edit.
Uncheck the Enable Test Mode option, and click on Save.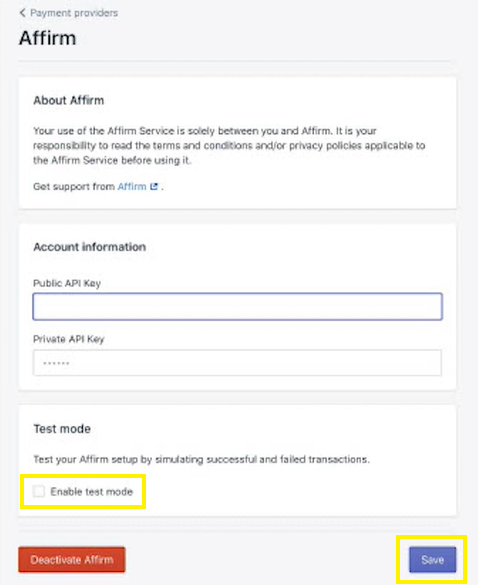 ---
Install the Affirm pay-over-time app
To add Affirm the Affirm pay-over-time app, follow the below instructions:
Go to the Shopify App store and search for the Affirm pay-over-time app.
Once you find it, click on Add app.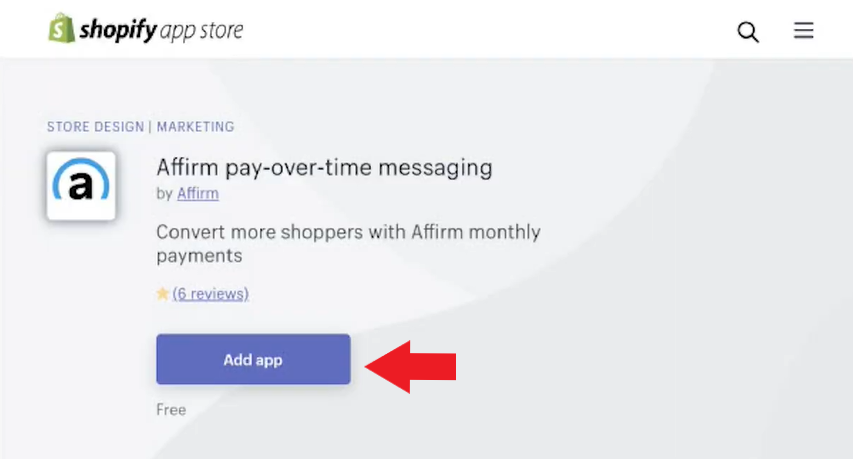 3. Notice that by installing the app, you are agreeing to the Shopify Terms of Service.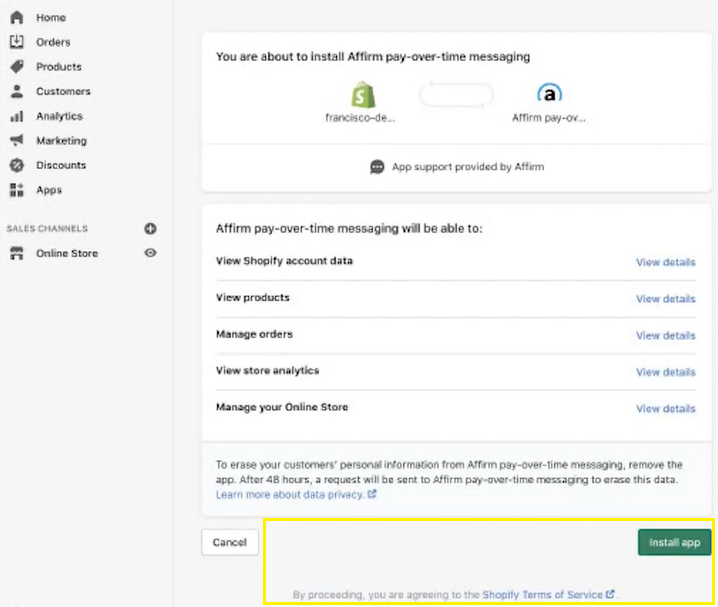 4. You will need to be logged in to the Affirm Merchant Portal, to be redirected to the configuration page.
5. Click on the Enable button to activate the Affirm pay-over-time app.

6. Then, you can configure your pay-over-time promotional messages directly in this section.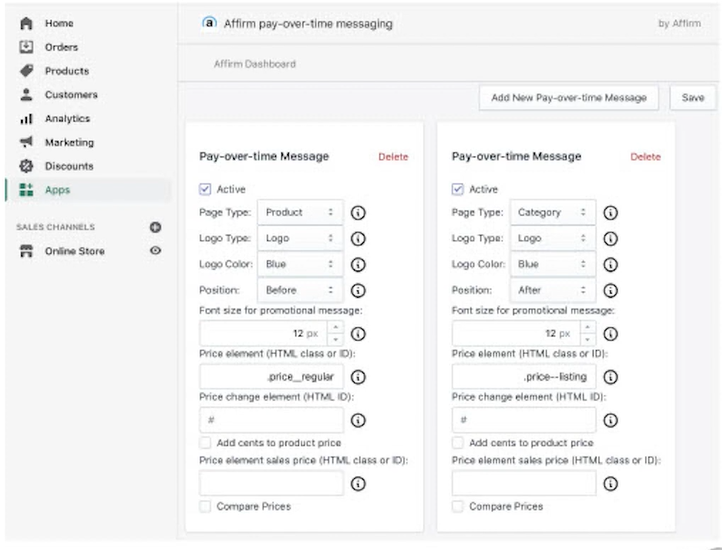 In case you need assistance in implementing these messages, feel free to contact us!
---