Contents
In this article, we'll cover how to send Affirm a request to sign up, while creating a merchant account.
---
Signing Up
If you're on Affirm's website, you can hover your cursor over the "For businesses" section to reveal the subsections. You can then click on the Get Started button.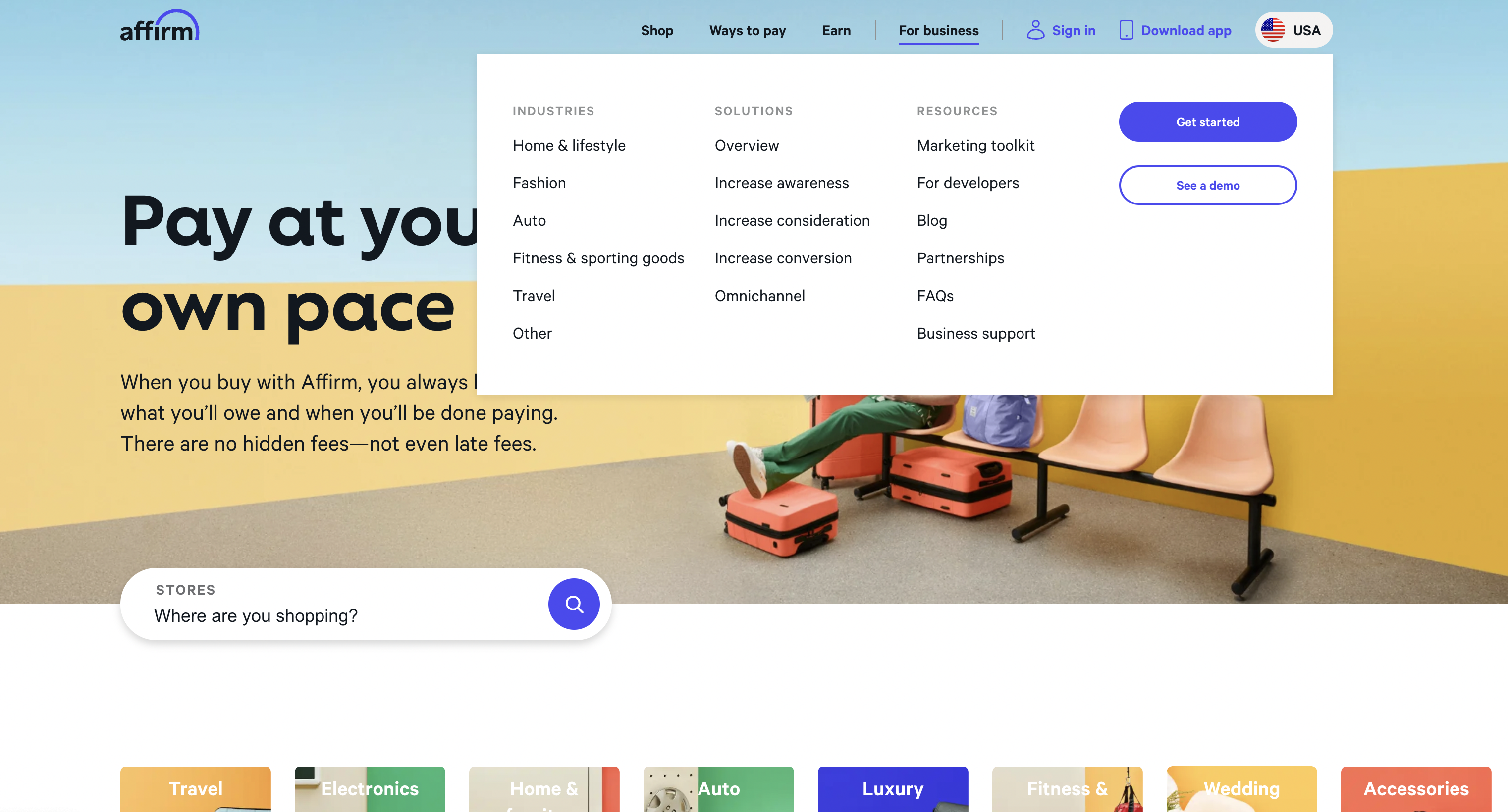 Alternatively, you can visit this page. You'll see a form with 8 fields you need to fill out.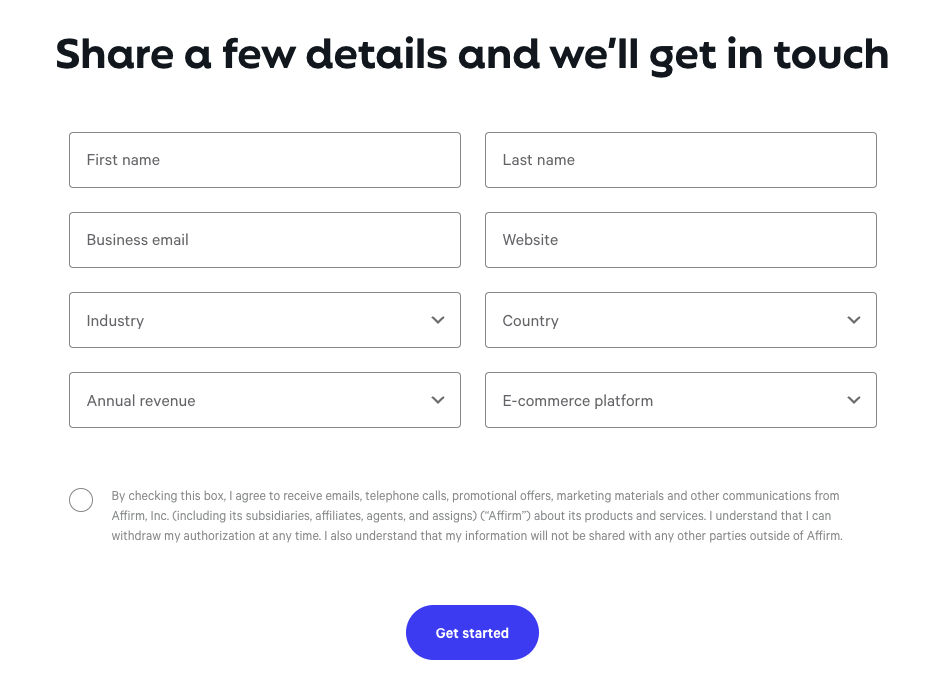 Simply fill out the form as accurately as you can. You also have to select the check-box to proceed.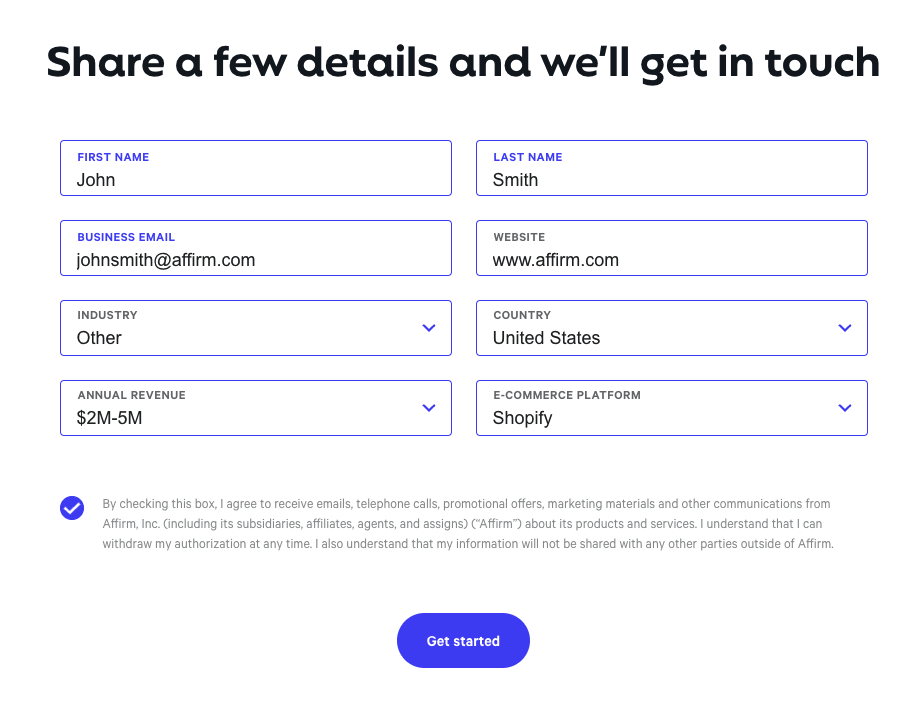 ---
Creating a Merchant Account
While you are waiting for Affirm to respond/evaluate your business, you can first create a merchant account.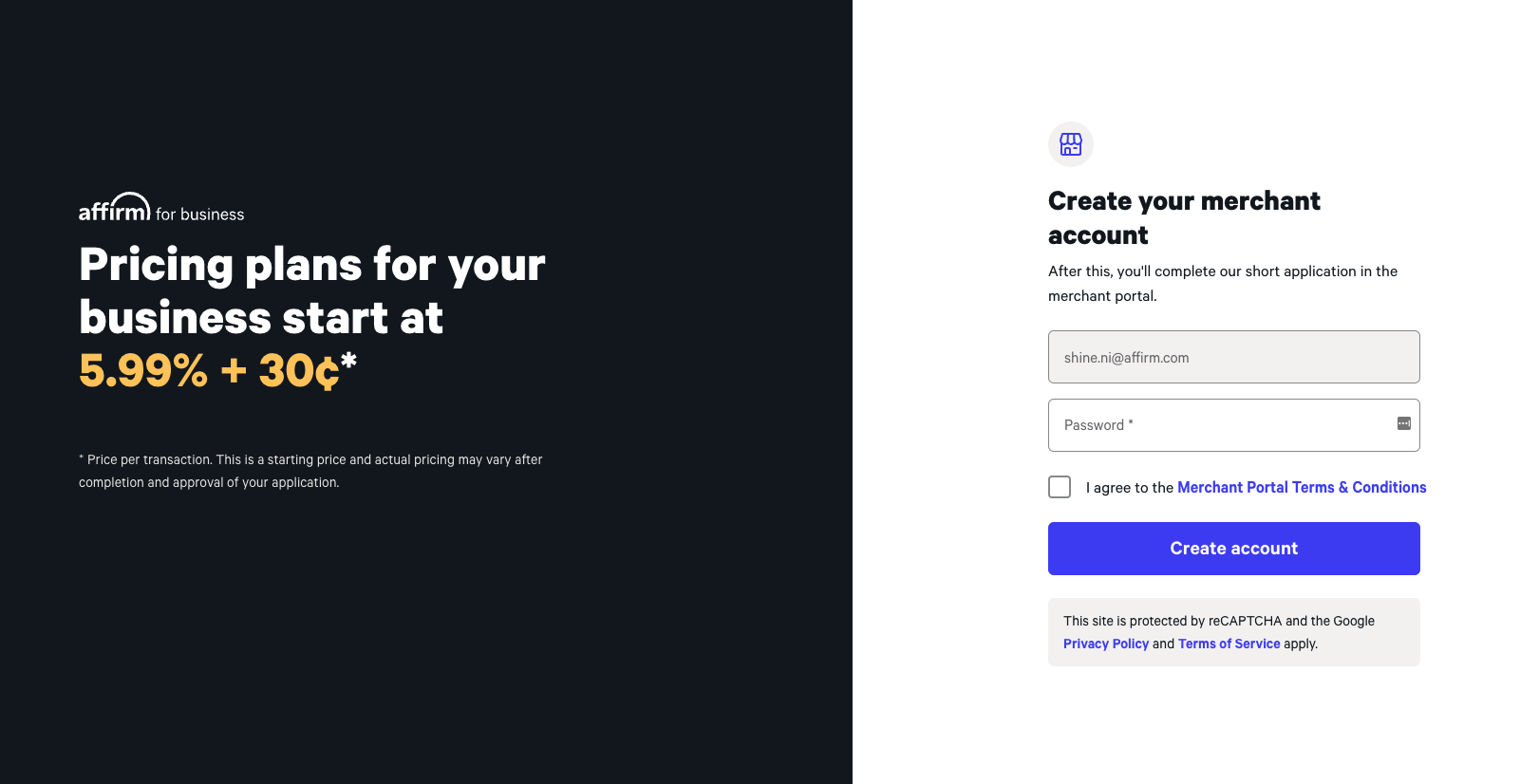 After creating the account, you'll have to complete some more application information.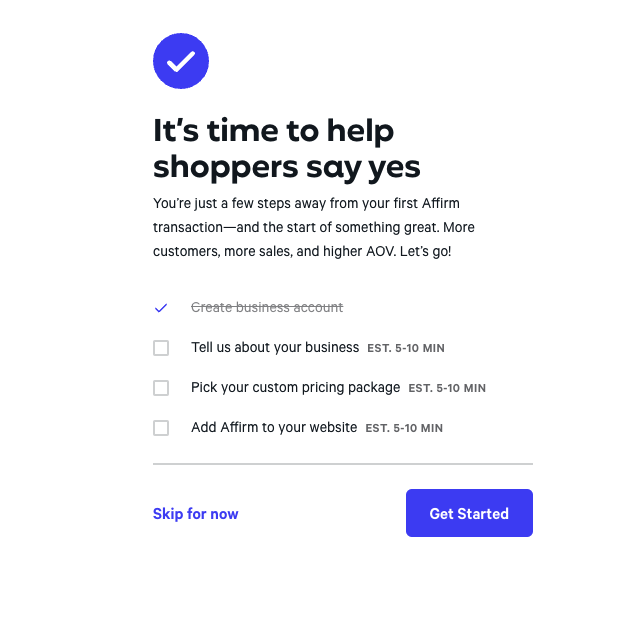 You can skip these forms for now, but you will have to complete them if you want to select a custom pricing package.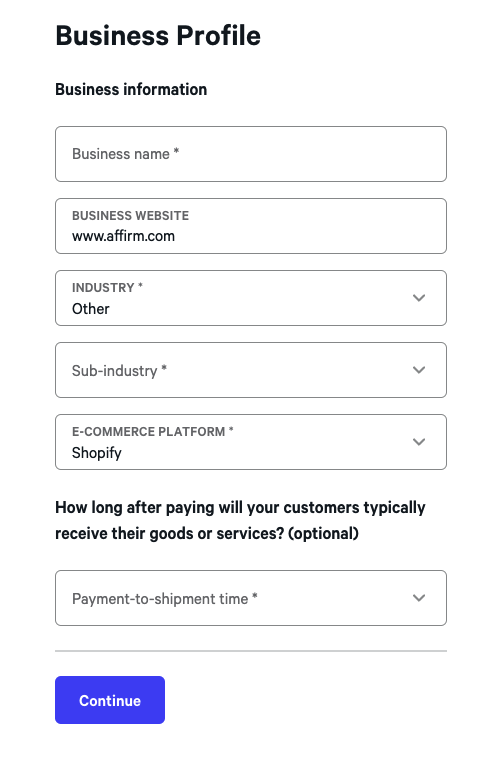 Once you submit the form and select your pricing package, Affirm receives the request and will get back to you shortly with an approval or denial message. You will be able to see the merchant dashboard, but NOTHING WILL WORK (orders, APIs, etc) until your business has been properly evaluated and approved by Affirm.
After you've been approved by Affirm, then you can begin integrating Affirm into your shopper flows and then marketing the functionality!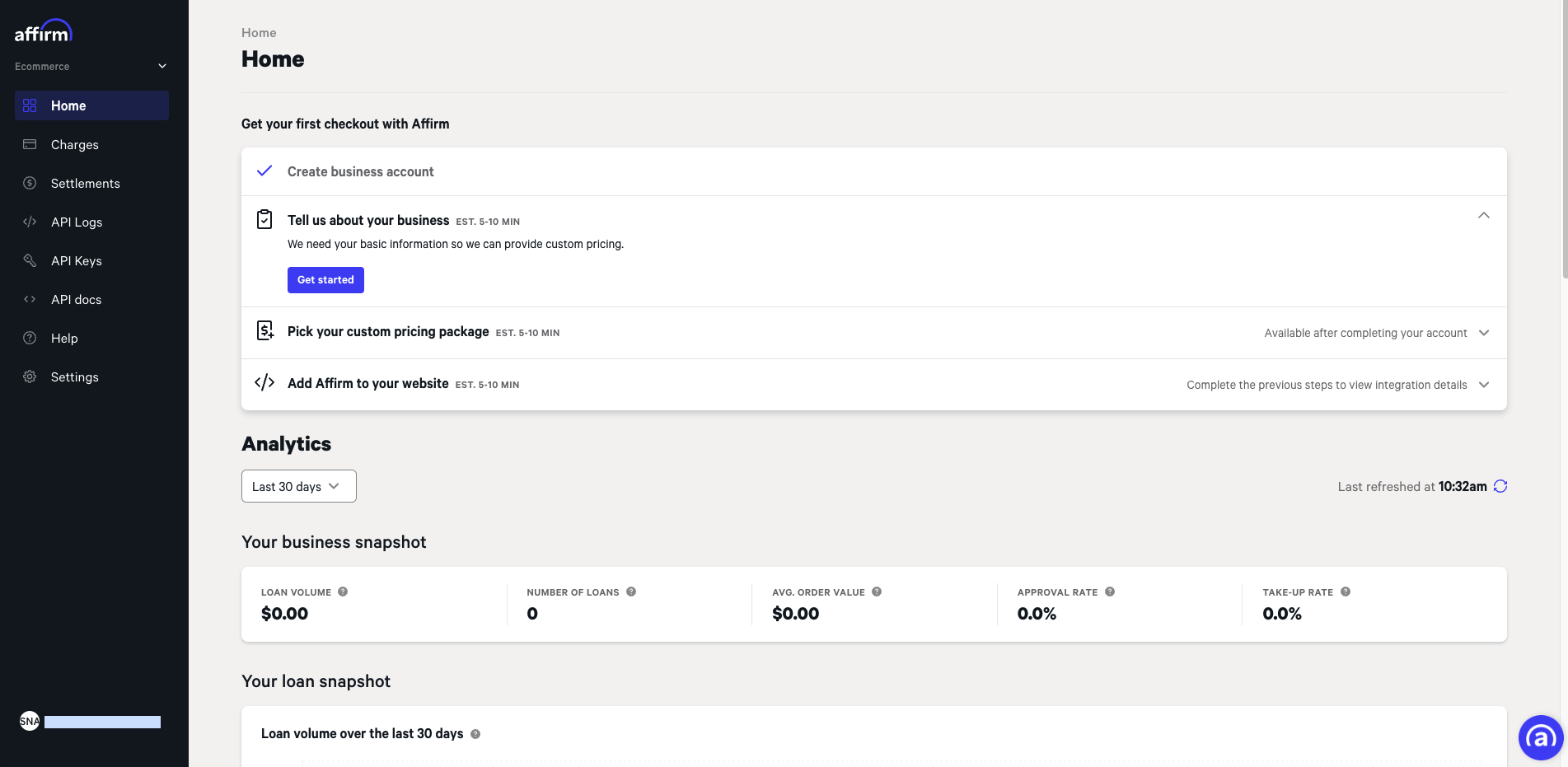 Additionally at the bottom right, you'll see an "A" icon - you can use this to search for questions you may have about Affirm.
---
Frequently Asked Questions
Here are some common questions that prospective/new Affirm customers have:
Q: I've filled out an Interest Form and have created a business account, am I done with my application?
A:Almost! Please proceed with submitting additional pieces of information by completing the "Tell us about your business" section. Once completing that, you will have officially submitted an application with us. From there, our team will review it and get back to you within 3-5 business days.
Q: I want to know my financing program options before completing an application.
A:A typical Affirm fee is a base percentage + $X.XX per transaction — but this can vary by business type and size. Depending on the information you provide to us in your merchant application, we'll be able to provide financing program option(s) that are available to your business.
If you have any concerns or questions while filling out your application, please reach out to our Merchant Development team!
Q: How does it take for Affirm to process my application and approve/deny our business?
A: Our team does our best to get back to you with an application decision within 3-5 business days. Be sure to check your Spam and or Promotions folder in case our email ends up there by accident!
If you still have not heard back, please feel free to reach out to our Merchant Development team for an update! You can also use the "Support" widget located in the bottom right of the Business Hub Page. Click Contact Us, change the "Case Category" to "Sales", and then "Application Issue".
Q: My application has been denied before, can I re-apply?
A: Of course! We constantly re-evaluate our merchant relationships and are always expanding our business model and partnership opportunities.
We kindly ask that you reach out to our Merchant Development team first if you are interested in re-applying. That way, we can help avoid any application errors from occurring due to having duplicates in our system.
Q: Why was my application denied?
A: We truly appreciate your interest in Affirm! We wish we could partner with every merchant, however, your business may be falling under our Prohibited Business Policy.
If your business does not fall under one of the categories, or if you have further questions, please reach out to our Merchant Development team for more information.
---
< Back: Getting Started With Affirm: Frequently Asked Questions
> Next: Getting Started With Affirm: Compliance and Guidelines