Our entity change process to update your account takes approximately 7-10 business days.
 
You can generally expect these steps: gathering information and documentation from you, having our Underwriting team review it, and amending your merchant agreement.
To submit a request for transferring business ownership, log into your Affirm Merchant Portal and click on the resource widget located at the bottom right of the screen. Select the "Supported Resources" option, then scroll down until you see the button to submit a ticket.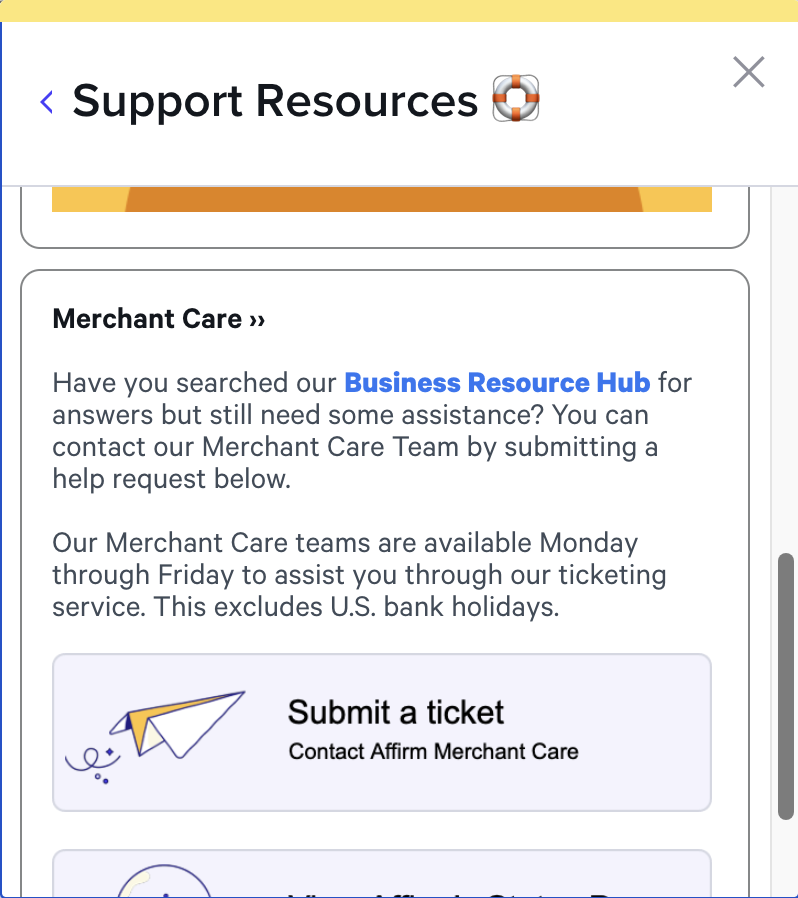 When submitting a request to Affirm, please provide the following information: 
In the "Description" section, provide the following information:


Will the merchant URL remain the same or change? (include website link)
Will the Legal Merchant of Record be changing from "Previous Legal Entity"?


If yes, provide the name of the New Entity

New Legal Business Name
Physical Address
New Owner's Name
Contact Information: email and phone number
EIN Change
Date of the change in ownership

Attach the following documentation:


Provide one of the following Bank Account Information:


Voided Check with the New Entity listed
Screenshot from your banking portal
Bank or Company Account Info PDF

If it's a "Merger", provide a Merger Agreement with signatures from both parties
If it's an "Acquisition", provide a copy of the Asset Purchase Agreement with the first page listing both businesses and the last page with signatures from both parties

If the change in ownership is due to:


A sell off of your assets to a third party such that the new owner third party would be the Merchant of Record and would process disputes, refunds and payouts going forward:


Provide fully executed purchase agreement signed by both parties and confirm if there will be a new legal entity name
Confirm if there will be a new legal entity name

A change of majority ownership:


Confirm if there is a single owner that has ownership over 25% of the company (Please list names of majority stake owner)
Confirm if the entity will change or remain the same
If the entity changes, confirm the name of the new entity

If it's neither of the previous two cases, please provide more context on the circumstances surrounding the sale of the assets

For "Case Category", select:

Business Support > Merchant Legal Entity Change > New Ownership

Select the platform you work on.
Click "Send" to send your request.
If more information is required, you will be contacted to provide them as needed.
Once the request is reviewed and the change approved, the Merchant Agreement will be updated and an Amendment will be sent to you for signature to process the change.


Note: Once the request is received, the changes will be reviewed by our internal team and an update will be provided within 7-10 business days.